An Australian diplomat has fallen to his death in New York City after taking part in a drunken "trust game" with a friend.
Police say Julian Simpson plunged from the seventh-floor terrace of an apartment building in the Lower East Side at about 1.30am on Wednesday (15 November).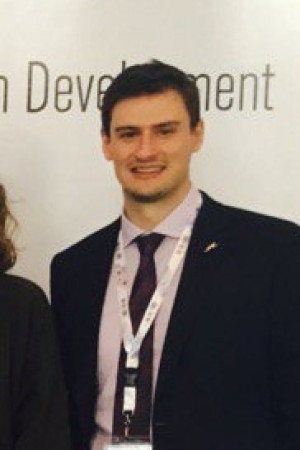 The 30-year-old, who was second secretary to the United Nations for Australia, landed on a second-storey terrace and was pronounced dead after being taken to hospital, NYPD officials said.
The diplomat had been out with his wife and their friends for dinner earlier in the night before returning to his apartment in Clinton Street for drinks.
They had gone up to his rooftop to look at the Empire State Building being lit in rainbow colours in recognition of support for same-sex marriage in Australia.
Simpson swung a woman around, and her husband, James Waugh, became angry, police said. The men then went to the seventh-floor apartment terrace where Simpson tried to convince the husband he wasn't trying to harm or scare his wife.
Simpson offered to prove he was trustworthy by playing a trust game, which would see him go to a ledge, lean back and grasp the arms of Waugh.
"I will prove that you can trust me. Let's play the trust game," Simpson told Waugh, according to NY Daily News police sources.
Waugh told police that he held out his arm to catch Simpson, but the diplomat lost his grip and fell over the ledge. Police say they do not suspect foul play in relation to his death.
Australia's Department of Foreign Affairs and Trade said it was assisting Simpson's relatives, who asked for privacy.
Australian Prime Minister Malcolm Turnbull said the death of Simpson was a "shocking tragedy."
"Hearts go out to his family," Turnbull told Australia's Seven Network television.
Simpson worked alongside Australia's Labor senator Lisa Singh while she was on secondment at the UN for three months in 2016.
"Julian was my minder, my staffer. He was a person who certainly looked after me for those three months, and did an exceptional job at that," Senator Singh told reporters in Canberra on Thursday.
"He was a very fine young man, a very fine young diplomat. It's very sad to hear that he has passed away."
Foreign Minister Julie Bishop also received support from Simpson while abroad.
"Julian was a diligent, professional and highly skilled diplomat, whose support I valued, particularly during UN Leaders' Week," Bishop said in a statement. "He will be remembered as someone dedicated to the service of our nation as a member of Australia's foreign service.