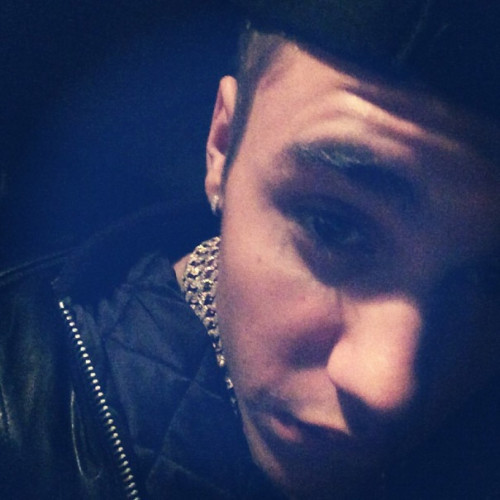 Justin Bieber fans as well as haters went crazy on Twitter after a photo of the singer kissing another man went viral. The image that started circulating online on 12 February had Beliebers totally up in arms. So, is Justin Bieber gay or is he going through an "experimental" phase? Is the image photo-shopped? Here's the real truth behind the scandalous photo.
The image in question has two guys kissing, one of them bearing a strong resemblance to Bieber with his signature shaved haircut, tank top, and backwards snapback hat. But apparently, the person is just a look-alike - a man named Rob Miller who bears a striking resemblance to the Baby singer, reports Hollywood Life. So Bieber fans need not worry after all.
The singer, currently going through a tumultuous phase, has been called many things - immature, irresponsible, and reckless but apart from a few hate tweets here and there, he's never been labelled as gay. The photograph (below) which surfaced online, could have had a catastrophic impact on the singer's fan-following and career had the issue not cleared up.
The picture of Rob Miller kissing his boyfriend was posted in August:
my boy ? pic.twitter.com/VUcfJ8W1qF

— Rob Miller (@RobMillerr) August 23, 2013
Miller has been rubbishing the rumours since December when websites and Twitter users began attributing the picture to Bieber to fuel suspicion surrounding his sexuality.
Bieber and his fans can heave a sigh of relief. The last thing the singer needs is another major controversy. Bieber has enough trouble on his plate already.
The singer's arrest in Miami last month was followed by more disturbing details. According to TMZ, it was reently revealed that the police have a video of the DUI'ed Justin peeing in his jail cell. If the video leaks online, it could reportedly spell doom for the young star.