Millions of London commuters are set to experience additional travel chaos this evening (9 January) as more stations are expected to close even after the 24-hour Tube strike has officially ended at 6pm. This is because of staff shortages caused by the strike.
Transport for London (TfL) is warning even more stations will be closed from 7pm onwards and advise those to complete all journeys before 6pm. TfL added that normal services will not resume until Tuesday morning.
TfL fear the number of open station this evening could drop to around 50% – lower than the 69% of stations open during midday. This is due to TfL using the majority of staff available between the hours of 7am and 7pm in order to provide the "best possible service" during the busier timeframe.
The walkout by workers on the RMT and TSSA unions began on 6pm on Sunday (8 January), causing major disruption to services on Monday morning.
As of Midday on the Monday, TFL said around 69% of its 270 stations across all lines remained open. However, TFL warned that a majority of those that have stayed open during the strike are "likely to close" by 7pm, with restricted services on the rest of the lines.
A TfL spokesperson said that it is "difficult to say" which stations will be closed past 7pm at this time, but stations within Zone 1 will more than likely still be still be "severely affected".
The strike over staff safety caused further strain on the capital's rail network, with Clapham Junction, the busiest train station in Europe, temporarily closing as result of overcrowding.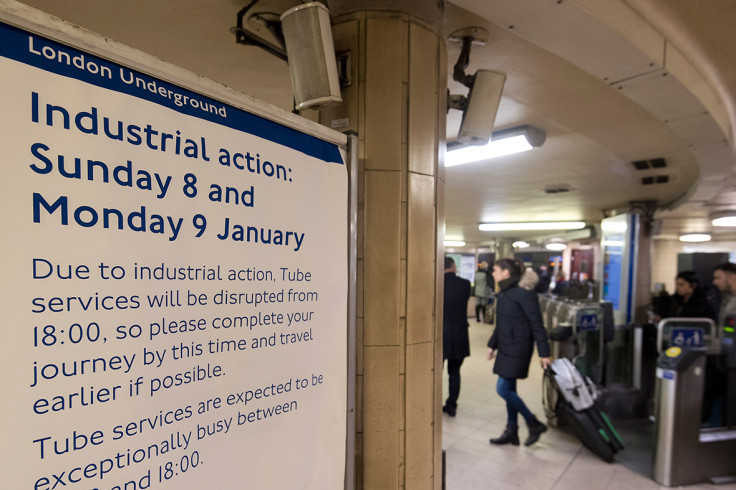 Discussing why strike action was undertaken, TSSA General Secretary Manuel Cortes said: "Too many stations are being been left open without staff, CCTV monitoring which protects against congestion has all but vanished, evacuation procedures are now insecure and the abolition of ticket offices have exposed our members to a sharp spike in levels of personal and physical abuse at work from increasingly frustrated passengers. No wonder they are fearful at work – there is much for them to be worried about.
"My members go to work every day proud to serve Londoners, proud to keep our city's people transported. They are striking today to tell you that they can no longer transport you as safely as you, or they, would like and as safely as you were transported this time last year.
Mayor of London Sadiq Khan condemned the actions of the striking unions, saying they had made a "big mistake". He told Sky News: "I think when things can be resolved amicably they should be resolved amicably. I think the strike is completely unnecessary."
Steve Griffiths, Chief Operating Officer for London Underground, added: "This strike, called by the leadership of the RMT and TSSA unions, is unnecessary. We had always intended to review staffing levels and we're already underway recruiting 200 extra staff for our Tube stations.
"All of this will ensure that our customers feel safe, fully supported and able to access the right assistance in our stations at all times. We remain available for talks and we encourage the trade unions to come and discuss a way forward to resolve this dispute instead of disrupting customers.
"I thank customers for their patience as they try to make their journeys today during this unnecessary strike. We have hundreds of Travel Ambassadors on hand to help keep customers informed of what services are running and to help them get around the capital."