Today's 24-hour tube strike means London Underground is running a denuded service, but you should have seen it yesterday – it was really was pants. Hundreds of pranksters stripped down to their underwear for the annual No Trousers On The Tube Day. Londoners may be having nightmare commutes today, but it could be worse: there could be some bloke's wacky Union Jack undies right in front of your face for your entire journey.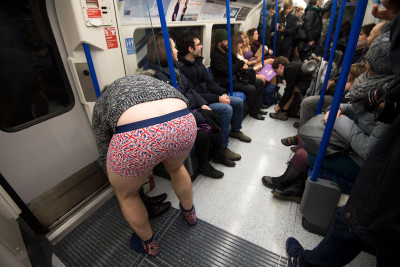 Known elsewhere as the No Pants Subway Ride, the event began in 2002 in New York with only seven participants and has grown into a global phenomenon, with events in more than 60 cities. The event is coordinated by Improv Everywhere, a global flash mob, who call it "an international celebration of silliness".
The idea is for trouserless participants to board a train and maintain a nonchalant air, listening to music, reading newspapers, while keeping a straight face as if all were perfectly normal. The participants wear typical winter clothing on their top half such as hats, scarves and gloves and do not acknowledge each other's similar state of undress.