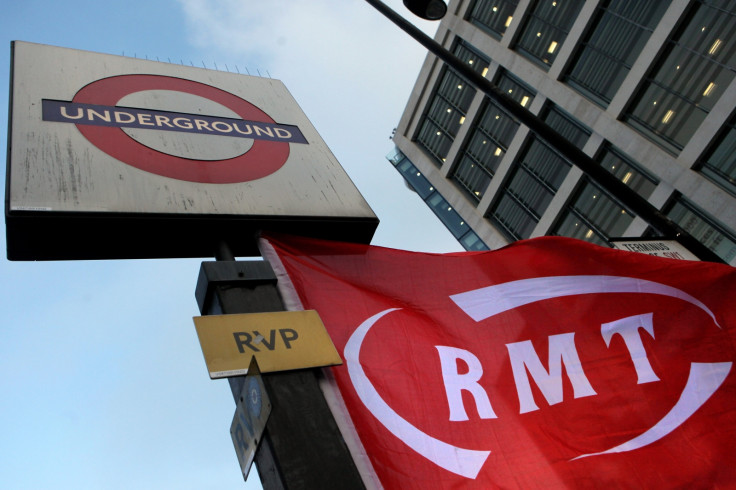 The RMT has officially announced it will join Tube drivers' union Aslef in striking for three days over January and February in protest over proposed work and pay conditions for the Night Tube. The union, which represents workers and drivers on the Underground, made the statement ahead of Aslef's expected announcement on the 11 January.
Sources told IBTimes UK that Aslef's industrial action will take place on 27 January for 24 hours, followed by two 24-hour-long walkouts on 15 and 17 February. The RMT is also planning to stage three 24-hour-long strikes and a weekend of industrial action.
"RMT members are furious at the bodged introduction of the Mayor's Night Tube plans and the fact that they have been tied in with a pay deal that has left our members dangling on a string and out of pocket since April last year," Mick Cash, the general secretary of the RMT, said.
"RMT supports the principle of a properly worked out Night Tube service introduced through agreement with the unions but the abject failure to work through the detail has led to a comprehensive breakdown in the negotiations and has forced us to name a programme of further industrial action.
"This whole situation could have been avoided if London Underground, under direction from the Mayor, had dealt with the Night Tube professionally from the off instead of resorting to ultimatums and imposition."
The comments come after Transport for London criticised Aslef's expected action announcement.
Steve Griffiths, chief operating officer for the Underground, said: "Our four-year pay offer is extremely fair.
"As a result of hiring new drivers, who will be on permanent, part-time contracts with the same rates of pay and the same benefits as existing drivers, we've made absolute guarantees that no current driver will have to work the Night Tube unless they want to.
"This total protection of work-life balance is precisely what Aslef leaders asked for, so it is astonishing that they are now once again threatening strike action.
"The truth is that they are making excessive demands for more money, fewer hours and a four-day week and expect fare and tax payers to pick up the bill. That is the real reason they plan to disrupt Londoners. No employer could possibly meet such demands and strike action will change nothing. There is no more money."
Unite, which represents more than 400 electrical and maintenance workers on the network, has also announced that its members are going to strike.
Unite has formally served LUL notice of strike action consisting three 24hr stoppages commencing 18:30 hrs on: 26th Jan, 15th Feb & 17th Feb

— UNITE LUL BRANCH (@UniteInLUL) January 11, 2016