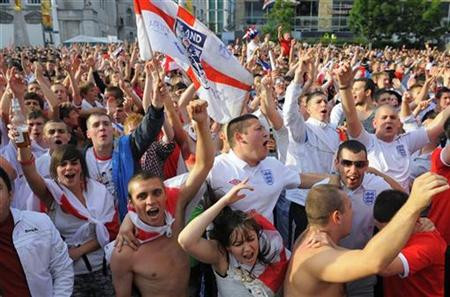 The Trades Union Congress has called on employers across the country to allow their workers to watch England play their final deciding match of the group stages of the World Cup.
England are due to play against group leaders Slovenia tomorrow at 15:00 and will need a win in order to secure their spot among the last 16 of the competition. The team will need to up its performance after two disappointing draws against the USA and Algeria if they are to beat the only team to have won a game in their group.
The TUC said that employers should allow to their workers to work flexibly so that they can watch the game away from work or allow them watch the game at work "if appropriate". The TUC also reminded employers that many foreign workers would want to watch their own countries play in the World Cup.
In addition the TUC said that flexitime "has real benefits for businesses and their workforce" and that the World Cup was the perfect time to test the benefits of allowing workers to start earlier and finish earlier and vice versa.
Brendan Barber, General Secretary of the TUC, said, "Not everyone has caught World Cup fever, but there are people all around the UK who would like to support their countries at home, in the pub, or on the radio or internet at work.
"To avoid any tensions bosses should discuss the issue with their staff. We would encourage them to let people watch the games if they like - and then claim back their time afterwards. That way, everyone wins.
"Whether it's about major events like the World Cup or picking up the kids from school, allowing people more flexibility in how and when they do their work makes them happier - cutting absenteeism and raising productivity for their employers."
Despite the call, a survey by the London Chamber of Commerce and Industry found that 67 per cent of London employers are making no provision for their employees to watch the game, although larger companies were found to be more lenient on the issue. Around a third of businesses also said they expected problems of staff being absent during World Cup games.
Peter Bishop, Deputy Chief Executive of the London Chamber of Commerce and Industry, said, "While many employers will be allowing staff to cheer on England, some companies, particularly smaller ones, simply can't afford a drop off in productivity. People may wonder what impact just one match could have on the office day, but when you consider that London has a huge international workforce, many working hours could be lost as some staff will want to watch a team other than England play."