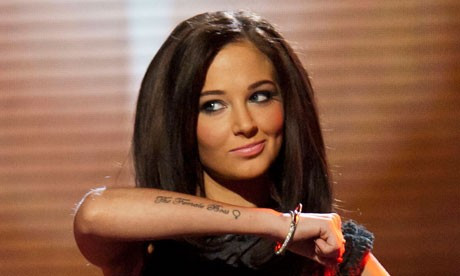 X Factor judge Tulisa Contostavlos was left red-faced when she was forced to admit that the reason that her suitcase "shivered" at a Miami airport was because she had a vibrating dildo inside.
The 22-year-old singer revealed that she had bought the Rampant Rabbit adult toy during a trip to a sex shop with friends.
She told The Sun: "It was so embarrassing when it went off buzzing in my bag. I only bought it as a present for a mate but the joke ended up on me."
Fans were quick to point out, however, the major flaw in her story.
They said that because the battery-powered toy was vibrating, it clearly had been used already.
"I thought if you bought something like that brand new it would still be in its packaging so how could it have gone off in her bag?! Ha ha. Trying to style it out but it hasn't really worked. Bless," said one commentator.
Another said: "lol for a friend..nope....just own up.. lots of girls use them."
On Valentine's Day, she had tweeted to fans: "Happy valentines day uk.. all u lovers, I wish u a romantic day... 2 all my singles, hook up wid ur girls n go home 2 ya wabbit! Yeziirr."
So what do you think? Was Tulisa simply being a loyal friend or is her desperately in need of some male company?