Turkey detains family of police gunman Mevlut Mert Altintas over assassination of Russian ambassador
The attacker's mother, father, sister and two other relatives are being held for questioning.
The authorities in Turkey have detained family members of police gunman Mevlut Mert Altintas in connection with the shooting of Russia's ambassador to Turkey in Ankara yesterday (19 December).
The Russian envoy to Ankara, Andrey Karlov was shot and killed at an art exhibition by Altintas, a member of the Turkish riot policy, who claimed he carried out the attack in retribution for Russia's foreign policy in in Syria.
"Don't forget Aleppo" and "Allahu Akbar," Altintas shouted following the attack. Russia has said it believed the Turkish police officer was an Islamist extremist but it remains unclear whether he is connected to an organisation or acted alone.
Turkey's state run Anadolu Agency reported the attacker's mother, father, sister and two other relatives were being held for questioning in the western province of Aydin. Altintas' flatmate has also been detained.
As questions over security arrangements are raised in Ankara which has suffered a series of terror attacks over the past year, the US and Iran have said they will close their diplomatic missions to Turkey in the wake of the attack.
Reuters reported that the United States was closing its three missions in Turkey after a gun was fired in front of the U.S. embassy in Ankara overnight. A man brandishing a pump-action shotgun hidden in his coat fired eight shots in the air outside the embassy before security guards overpowered him. The embassy is located across the road from the gallery where Karlov was shot.
Iran's Foreign Ministy has also announced that its embassy in Ankara and consulates of Istanbul, Trabzon and Erzurum would also be closed Iran, like Russia, is one of the principal backers of Syrian President Bashar al-Assad.
Russian Foreign Minister Sergey Lavrov has said Karlov's death makes Moscow more determined to press ahead with Syrian talks that will offer "no concessions to the terrorists."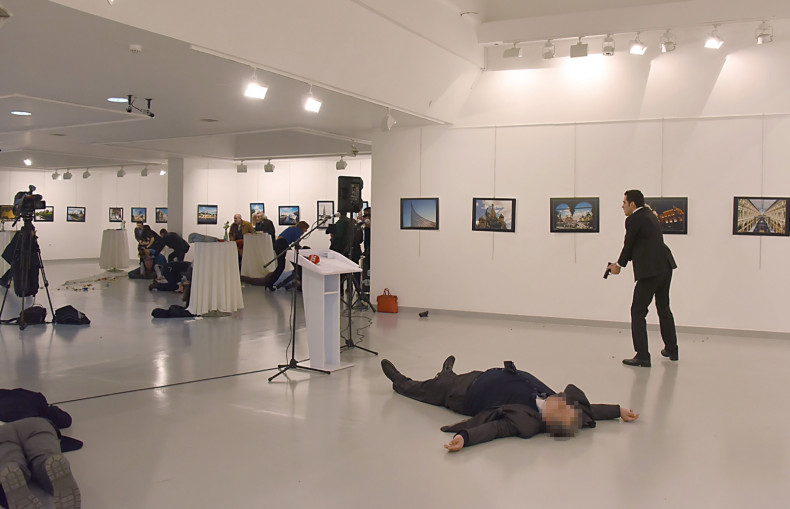 Lavrov is hosting the foreign ministers of Turkey and Iran in Moscow on Tuesday in what was expected to be a major meeting to discuss the Syrian crisis, the Associated Press reported.
Russia has said it is sending a delegation of 18 security officials to Ankara to investigate the assassination. The spokesman for Russian President Vladimir Putin has said the attack aimed to hamper peace talks to end the bloodshed in Syria.
Dmitry Peskov told reporters that Karlov's killing "benefits those who want to drive a wedge between Russia and Turkey" and aimed at derailing "the normalisation of the talks that allow to spur and join (our) efforts for Syrian political settlement."