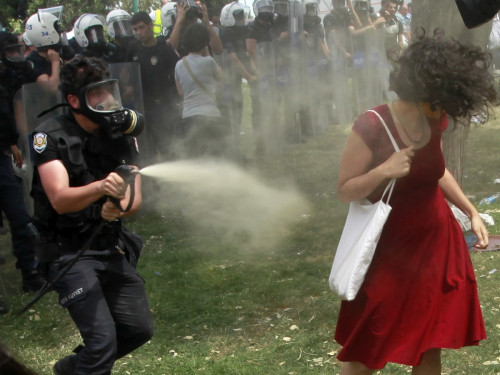 A Turkish police officer who sprayed a woman with teargas during anti-government protests in Istanbul faces prosecution and a potential prison sentence.
The picture of the attack in Istanbul's Taksim Square in May 2013 spread quickly across social media. The woman in the red dress has since become the image associated with female protesters during demonstrations.
In the image, Fatih Zengin appears to be deliberately spraying teargas at Ceyda Sungur from less than one metre away.
Zengin has been accused of using excessive force and prosecutors have demanded that he should lose his job. He could face up to three years in jail if found guilty on the grounds that no warning was given prior to the incident, according to Turkish news agencies.
Sungur, an academic at Istanbul's Technical University, had reportedly just arrived at the protest, wearing a summer dress with a white bag over her shoulder. She found herself in front of the riot officers, but had not been involved in any violent action.
The protests began as a peaceful demonstration against plans to redevelop Istanbul's Gezi Park. After a heavy-handed approach to curb the protests, it grew into a more violent defiance of Recep Tayyip Erdogan, the Turkish prime minister.