Turkey President Erdogan lashes out at West, says it should 'mind its own business'
He accused the EU and the US of taking the side of coup plotters and said they could not be Ankara's friends.
Turkish President Recep Tayyip Erdogan has lambasted Western countries for criticising his restrictions on media, security personnel and those who insulted him, after the failed coup attempt. He said those who failed to show solidarity with Ankara and worried more about the perpetrators than democracy could not be Turkey's friends.
Speaking at the presidential palace in capital Ankara late on Friday (29 July), Erdogan said the West should "mind its own business".
"The attitude of many countries and their officials over the coup attempt in Turkey is shameful in the name of democracy," he was quoted as saying by Reuters.
Erdogan said: "Some people give us advice. They say they are worried. Mind your own business! Look at your own deeds," BBC quoted him as saying.
"Any country and any leader who does not worry about the life of Turkish people and our democracy as much as they worry about the fate of coupists are not our friends," he added.
Turkey's Western allies have condemned the coup in which over 200 people were killed and more than 2,100 wounded. The president was also criticised for purging his military personnel and other state staff, where more than 60,000 people were reportedly suspended, removed or detained in the aftermath of the coup attempt. Scores of media organisations were also asked to shut down.
"Instead of thanking this country which repelled a coup attempt, you take the side of the coup plotters. The putschist is in your country already," the president said while referring to Fethullah Gulen. Turkey accused the US-based Muslim cleric of masterminding the 15 and 16 July failed coup. Gulen has, however, denied any involvement in the attempt.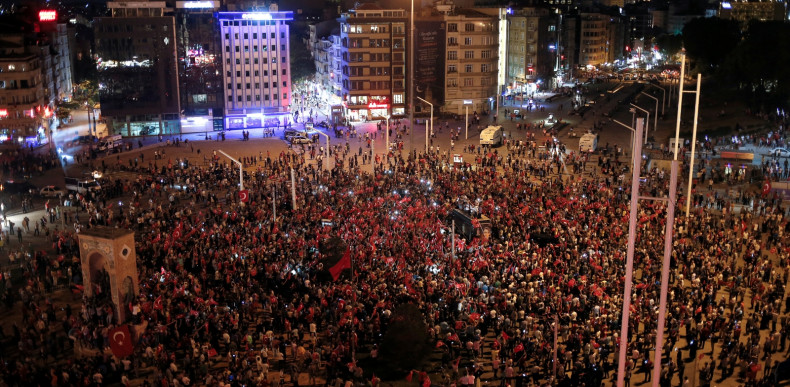 The Turkish president also stepped up his attack against the European Council and the European Union for their failure to visit Turkey to offer condolences, saying their criticism was "shameful". He had also earlier accused the head of US central command, General Joseph Votel, of being "on the side of the coup plotters".
However, both the White House the US military rubbished Ankara's claim. In a statement released by the US military on Friday, Votel said it was "unfortunate and completely inaccurate" that he was named by Turkey for being involved in the coup.
In his comments on Thursday (28 July), Votel expressed his concern over harming Turkish-American military cooperation as a result of Erdogan's crack down on some of his military leaders.
Meanwhile, Erdogan also announced on Friday the withdrawal of all lawsuits against people for insulting him, as a one-off gesture of goodwill. He said his decision was triggered by the "feeling of unity" against the coup attempt.