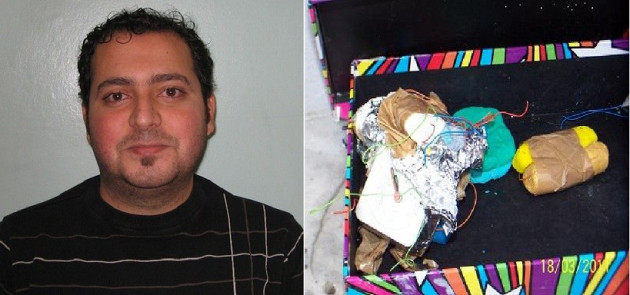 A north London man has been jailed after posting a hoax bomb to Turkey in a bid to ruin his sister's wedding day.
Hasan Aydemir, 28, decided to act after falling out with his sibling Hatice in a family row over her upcoming nuptials.
He packed a parcel with a clock, different coloured wires and a lump of putty - intended to look like a deadly explosive device.
Then he posted the brightly packaged package to the wedding venue in Gungoren, Turkey, with a note attached reading: "Leave the package on the table of the Bride and Groom. The package is my gift to Hatice-Metin."
The plot was eventually foiled by security guards at Ataturk Airport after it arrived in the country by courier.
After the device was uncovered, bomb disposal experts were called and soon declared it a hoax.
Police traced Aydemir by using CCTV footage in a branch of UPS, the courier from which the parcel was posted.
Investigating officers found he had sent a flurry of text messages opposing his sister's marriage.
Aydemir was charged with sending a hoax bomb, and sentenced to four years' imprisonment by Blackfriars crown court.
Deputy assistant commissioner Stuart Osborne said: "Hasan Aydemir had clearly gone to great lengths to make a realistic looking hoax device, which was designed to deceive anyone seeing it into thinking that it was a bomb.
"His actions were extremely irresponsible and wasted valuable police resources both in Turkey and in London.
"We hope that today's sentence will reinforce the message that the police investigate all incidents of hoaxes thoroughly and bring those responsible before the court."