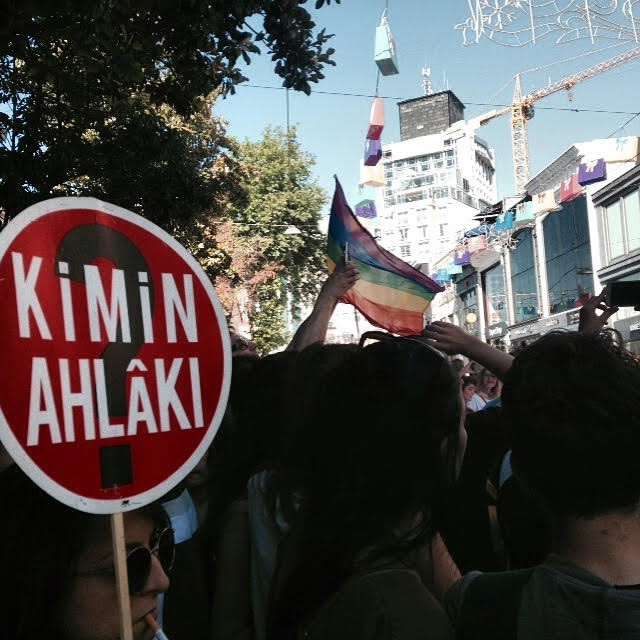 As a largely conservative, masculine and Muslim country, Turkey doesn't seem a paradise for lesbian, gay, bisexual, transgender and intersex (LGBTI) groups, but the picture is finally changing thanks to a tireless struggle for rights that is making gay people more visible and vibrant.
Bulent Ersoy, as a transgender singer, and the country's late gay icon Zeki Müren, have been popular figures in Turkey, however those who lack their socioeconomic clout continue to face major obstacles due to cultural resistance and religious conservatism.
Homosexuality hasn't been illegal in Turkey since 1858 during Ottoman rule, but there is still little public and political approval, based mainly on religious morality.
The mountains of discrimination start at the top. The country's president, Recep Tayyip Erdogan,. once described homosexuality as contrary to Islamic culture, while Selma Aliye Kavaf, the former Minister of State responsible for women and family affairs, sparked outcry when she said "homosexuality is a biological disorder that needs to be treated."
The Turkish army considers homosexuality a mental illness, and for those seeking exemption from compulsory military service on the basis of their sexual preference, the intimate photographic proofs were required until recently.
The Justice Ministry is currently planning to build a 'pink prison' in the western city of Izmir for the LGBT inmates, which is criticised by advocacy groups as it would openly stigmatise them while their visitors will have to travel long distances. For the past two years, the globally popular gay lifestyle and dating site Gay.com has been banned by the Turkish authorities as it is deemed inappropriate for public use.
Finally, the Boston Gay Men's Chorus faced serious homophobic attacks in the media before giving their first-ever concert in Istanbul as part of their Middle East Tour. An islamist newspaper, Vahdet, previewed the concert under the headline "Perversion Runs Free". Similar reactions elsewhere resulted in the group being banned from another private-owned concert hall.
This prejudice among politicians and the media filters down to the rest of society. In a new worldwide survey conducted by the Netherlands Institute for Social Research, 85 percent of Turks disapprove of having a homosexual neighbor. According to the Pew survey of June 2013, 78 percent of people say society should not accept homosexuality.
Faced with this sheer weight of bigotry, a number of associations fighting for LGBTI rights have faced closure requests over the last couple of years, on the grounds that they threaten Turkish moral values. However, a number of groups have defied the oppression to maintain their right for equality and social inclusion.
One transsexual activist, Buse Kilickaya, head of the Ankara-based Pink Life (Pembe Hayat) LGBT Association, was recently beaten by unsympathetic police forces, and she will be sued for disobedience to the police.
"After a sex-change operation, I have been often refused health services at the public hospitals. Until recently police forces got a premium each time they brought a transgender to the police station," said Kilickaya.
Yet Kilickaya, who conducts EU-funded projects with the aim of training Turkish NGOs and lawyers in anti-discrimination, strikes a bullish note when she says: "The struggle is becoming widespread. There is a wider visibility of our advocacy campaigns and people are much more aware of our problems mainly due to the social media."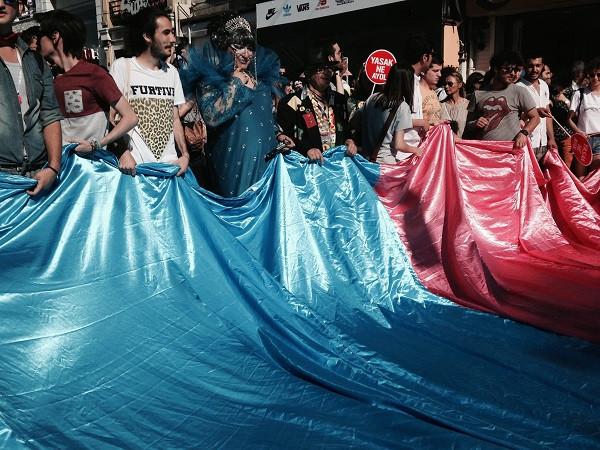 Activists think that the 7 June parliamentary elections, which resulted in the loss of the ruling AKP's parliamentary majority, may open a tiny window in the country's liberal-secular evolution, and things can get better for the LGBTI community.
Encouragingly, Deva Ozenen, a transgender woman, ran for a seat in the Turkish Parliament during the recent elections, as did 37-year-old Baris Sulu, the country's first-ever openly gay political candidate, although both were unsuccessful.
As an LGBT rights activist for years, Sulu, who stood for the left-wing and pro-Kurdish People's Democratic Party (HDP), broke fresh ground in 2011 when he and his same-sex partner applied to a Turkish court for a marriage licence. In legal terms, the application was in line with the rules, as the couple had pink and blue identity cards.
"However, the court asked us to prove our sexuality in a state hospital. We sued the Health Ministry and two public healthcare centers which refused to give us our health test results proving that our marriage is legally convenient," said Sulu.
Sulu, who is also the founder of Ankara-based T-Der association, is worried about the impact of the LGBTI movement on Turkey's political sphere as there has been no single legal improvement for decades, while the restrictions over the freedom of assembly and expression are on the rise.
"But I trust the main opposition parties that will bring a change in the new legislative term. They should especially change the recently adopted Domestic Security Law that leads the way to arrest any transgender, even when going to the market to buy a bread, as a suspected or potential sex worker," Sulu added.
Sulu also notes that Muslim religious leaders, imams, should revise their discourse about homosexuality and bring it into line with the contemporary Western religious paradigms, in order to reframe the stereotypes about LGBTI individuals.
Movement getting stronger
Awareness is growing. Two years ago, activists shot a fantastic documentary entitled My Child about parents of LGBT individuals in Turkey, giving their personal experiences. Meanwhile Istanbul Pride Week has now been running for 23 years; this year's event, taking place between 22 and 28 June, will see high-profile homophobes and transphobes given traditional Genetically Modified Tomato Awards.
The Pride Parade will take place on 28 June in Taksim Squaere; on 21 June the prominent rallying point in Istanbul hosted the 6th Trans Pride March, drawing thousands of people. The event witnessed the unfurling of a huge 60 meters-long trans-flag, with shouting "We need a law against hatred".
Indeed, there is a sizeable number of hate crimes against trans people – especially LGBTI sex workers - in Turkey, while the absence of a law strengthens the culture of impunity. Turkey has still no constitutional guarantee for the human rights of people on the basis of sexual orientation.
Professor Yasemin Inceoglu, from Istanbul's Galatasaray University, has been one of the academic pioneers for advocating a hate crime law in Turkey based on orientation or gender identity.
Inceoglu says that there is a widespread impunity for the hate crimes against LGBTI individuals, seen as almost invisible in the democratization packages adopted so far by the country.
"When an individual commits a crime on the basis of the victim's sexual orientation, Turkish Courts pass reduced sentence on the ground of 'unjust provocation'. Thereby, the impunity culture becomes widespread and further encourages such acts," said Inceoglu.
However, as an enlarging freedom area, it is becoming quite common to open social spaces for LGBTI clientele in Turkey, mostly as bars or cafes, in relatively liberal neighborhoods. Currently, there are about 10-15 openly gay bars around Istanbul's urban patchwork.
Ulas Pekin was the manager of Sugar Café, one of the hottest gay café-bars of Istanbul's Istiklal Street, for 12 years until it was shut down due to alcohol sale restrictions in the neighborhood. To protect this space from cynical eyes, Sugar Café was opened at the end of an isolated backstreet of Taksim. The majority of the staff serving in Sugar were from the LGBTI community.
"For 13 years when the AKP ruled in Turkey, the perception about LGBTI groups among decision-makers has changed negatively, seen as 'morally indecent' and abnormal people. But, the secular character of the Turkish Republic and the social influence of liberal segments of the society help us in our struggles for survival," said Pekin.
"However it would not be an easy endeavor to openly live and have fun in the social sphere as a gay in some Anatolian cities due to the deeply rooted religious conservatism," he added.
To show solidarity with the LGBT Pride Week, a handful of municipalities in Turkey, namely in western town of Edremit as well as Atasehir and Besiktas municipalities of Istanbul, used a rainbow flag in their corporate logos on Twitter.