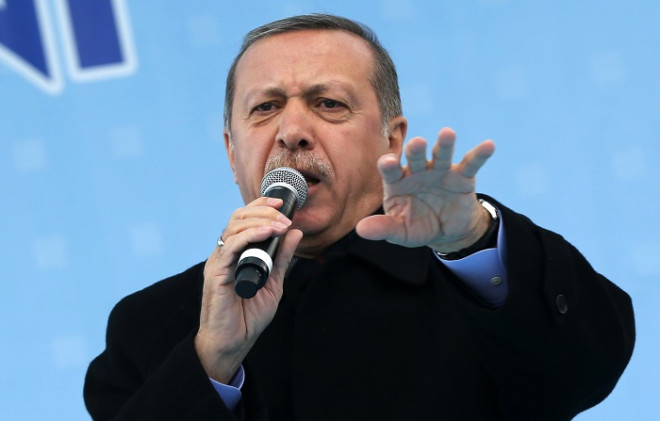 Turkish Prime Minister RecepTayyip Erdogan has said a teenager who died on Tuesday from injuries sustained in last year's anti-government protests was linked to terrorist groups.
Berkin Elvan's death after nine months in a coma sparked major clashes between protesters and police in more than 30 towns and cities across Turkey. The unrest was Turkey's worst since last June's nationwide anti-government demonstrations.
In a campaign speech at a rally broadcast on state television ahead of local elections on 30 March, Erdogan said: "This kid with steel marbles in his pockets, with a slingshot in his hand, his face covered with a scarf, who had been taken up into terror organisations, was unfortunately subjected to pepper gas."
Elvan, who was 14 at the time of the protests, became caught up in street clashes in Istanbul on 16 June while he went to buy bread for his family.
He was hit in the head by what is believed to be a police gas canister and fell into a coma.
Elvan became a rallying point for anti-government protesters, who held vigils at the hospital where he received intensive care treatment.
Elvan's funeral took place in Istanbul on Wednesday, providing a further outlet for expressions of discontent with the government. Police fired water cannon and tear gas at protesters near Taksim Square as Elvan's coffin was carried through the city's streets.
In comments likely to inflame public discontent, Erdogan criticised Elvan's parents and suggested that the teenager had not really gone to buy bread.
"His mother says 'my son's killer is the prime minister'," Erdogan said. "I know love, fondness for one's child but I could not understand why you threw steel marbles and carnations into your son's grave."
Erdogan has promised to step down if the governing Justice and Development Party (AKP) does not perform well in the elections. However the AKP, which has been in power since 2002, is expected to perform better than its political rivals in the polls.
Critics accuse Erdogan of becoming increasingly authoritarian amid recent moves by the government to control the judiciary and censor internet communications.