'Tis the season to be jolly... and watch a whole lot of television while stuffing oneself with mince pies and sherry.
Aside from the multitude of festive parties and family gatherings, one of the most comforting parts about Christmas is putting our feet up and watching a whole lot of guilty pleasure telly specials without a care in the world.
So check out some of IBTimes UK's favourite Christmas episodes ahead of the big day – it doesn't hurt to get that TV compilation list in order...
Friends – The Holiday Armadillo
Who could forget the one when Ross desperately tries to force the Jewish holiday celebrations of Hanukkah upon his son Ben? The heartfelt episode sees the caring father struggle to find an appropriate costume to rival that of Santa Claus, so ends up dressing as a Holiday Armadillo to represent Hanukkah. What makes it more hilarious is that Chandler, in a bid to be a good uncle to Ben, dresses up as Santa Claus as a surprise, stealing the Holiday Armadillo's thunder.
Peep Show – Seasonal Beatings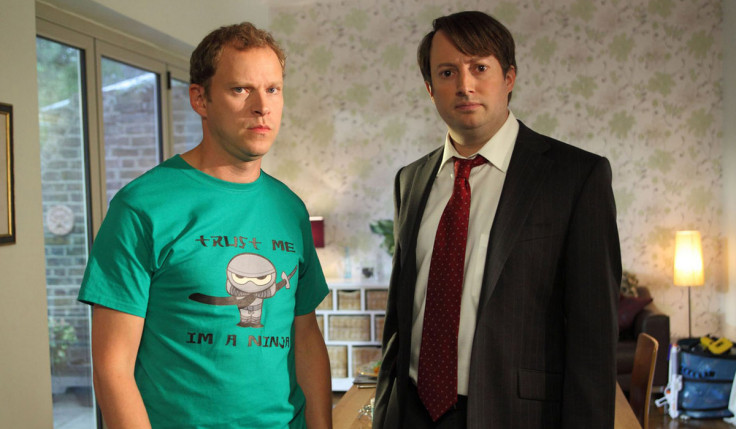 If you're having a particularly miserable Christmas, then nothing will make you feel better than an episode of Peep Show – in particular, Seasonal Beatings. The inauspicious Mark Corrigan is back at it and has his family over to his rather dismal south London flat for Christmas dinner, along with his love interest Dobby, who he is finally going out with. The only thing is, he hasn't told his parents about the romance yet. The British public can no doubt resonate with Corrigan's festive levels of anxiety with ease.
Modern Family – White Christmas
White Christmas is possibly the most memorable Christmas episode from the hit television show, and is no doubt worth watching again. The episode, from season 7, sees Gloria make plans for the family to have a "White Christmas", but the weather does not cooperate. Jay also makes a decision about the future of his business and Alex makes a new friend. There are a few twists and tensions, as Haley and Andy continue to fool around in secret.
Frasier – Merry Christmas, Mrs Moskowitz
It wouldn't quite feel like Christmas without an episode or two of Frasier, or are we getting seriously old? Frasier, ever the cynic, is hardly a sentimental character. But one Christmas, he meets a lovely new lady, and the episode knuckles down on the complexities of him and his father's relationship. Frasier invites his new girlfriend and her mother over, but promises to pretend to be Jewish so he doesn't upset her mother. As expected, it ends up in disaster, Frasier style, with the girl and her mother ending up fighting one another.
The Office – Christmas Specials Part 1/2
Another way to get some belly laughs this Christmas is to re-watch some of the The Office Christmas Specials. David Brent and co had us giggling back in 2003 with a hilarious two-parter. After being made redundant from Wernham Hogg, Brent is now a travelling salesman who, following a failed music release of a cover of "If You Don't Know Me By Now", leeches off the little fame he has left in a string of embarrassing nightclub appearances. The second part sees Brent tell Neil that he has a date for the Christmas party – he still visits the office to "keep up the morale" – when he in fact hasn't, and goes on an Internet search for suitable women.