Twin car bombings in Somalia leave at least 13 dead, al-Shabaab claims responsibility
The attack targeted a government building that housed administrative offices.
At least 13 people were killed when two suicide car bombers attacked a local government building in Galkayo, central Somalia, on Sunday (21 August) morning, officials said.
Witnesses said they heard two explosions, one after another followed by gunfire. The attackers then stormed the building and exchanged gun fire with security forces, Abdi Hassan, a local police official said. Most of the victims were students and traders who were at a nearby school and market.
Halima Ismail, a local resident, told Reuters: "There were two huge bombs. The first one was a truck bomb, followed a minute or so (later) by another car bomb. My brother was injured at the scene."
The militant group al-Shabaab claimed responsibility for the attack. The group's spokesperson for military operations, Abdiasis Abu Musab, said: "There were two suicide car bombs."
The assault targeted the government building, housing administrative offices, police said. The Northern Galkayo town is under Puntland control in a semi-autonomous area in north-east Somalia.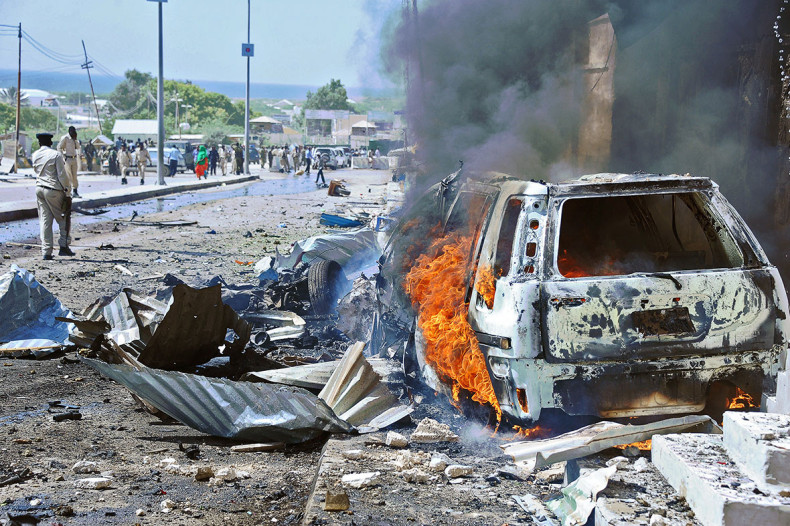 In March, al-Shabaab militants attacked a hotel in Galkayo, killing at least six people, including a senior local government official. Al-Shabaab, an affiliate of al-Qaeda working to overthrow the internationally-backed government in Mogadishu, is expected to violently disrupt elections that are to be held in September and October.
The UN mission in Somalia denounced the attack saying: "Terrorist attacks will not stop the 2016 electoral process."