BBC journalist Ahmen Khawaja has had to issue a hasty series of corrections after Tweeting that the Queen had died.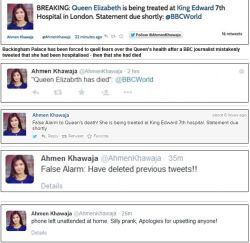 In her first Tweet, at 9.30am (3 June), Khawaja wrote: "BREAKING: Queen Elizabeth is being treated at King Edward 7th Hospital in London. Statement due shortly: @BBCWorld."
A short time later she added: "'Queen Elizabrth [sic] has died':@BBCWorld."
Realising her error, Khawaja, a multimedia producer for a BBC Urdu channel, sent out a number of corrections, but it was too late: the original Tweet had already gone viral, with CNN, Bild and NBC briefly mentioning the tweet before issuing corrections.
Buckingham Palace had to break its long-standing policy of never commenting on the health of senior royals and put out a statement saying rumours of the Queen's demise had been exaggerated.
The BBC claims the mistake was made when it staged its annual dress rehearsal for what it calls a Category One obituary and Khawaja had somehow overheard and got the wrong end of the stick.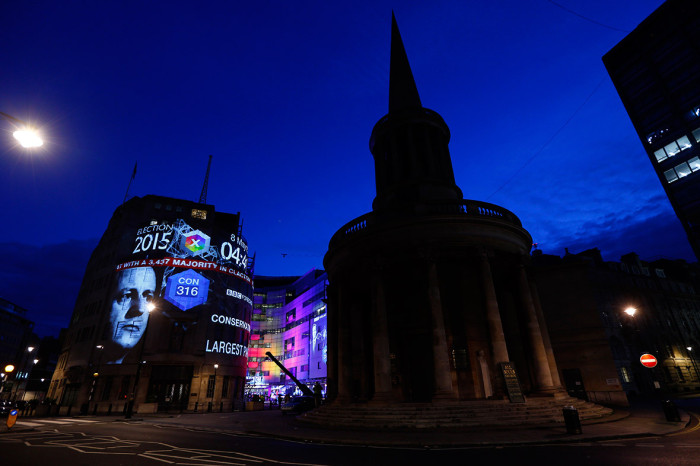 In a statement the BBC said: "During a technical rehearsal for an obituary, tweets were mistakenly sent from the account of a BBC journalist saying that a member of the Royal Family had been taken ill. The tweets were swiftly deleted and we apologise for any offence."
Additional confusion was caused because as part of its "dry run" the BBC mentioned the King Edward 7th Hospital in London, which has long been associated with the Queen. By pure coincidence, the Queen was at the hospital this morning for her annual check-up. Khawaja is not thought to have known this information.
However there is still confusion over whether Khawaja sent the text herself because she later claimed she had been the victim of a prank: "Phone left unattended at home. Silly prank. Apologies for upsetting anyone!"
Whatever the case, the 31-year-old broadcaster may now face disciplinary action.