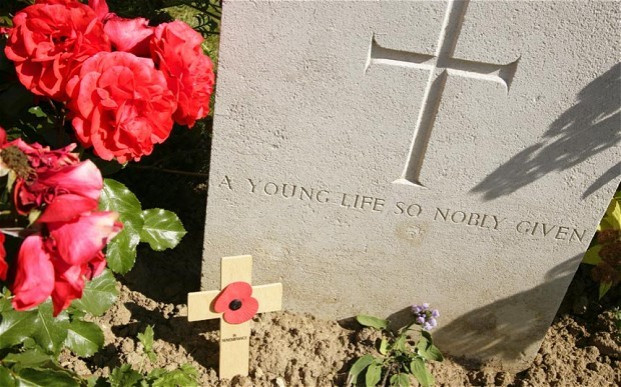 The remains of two British First World War soldiers have finally been laid to rest, almost a hundred years after they were killed in action.
Lieutenant John Harold Pritchard and Private Christopher Douglas Elphick, who died in a German offensive in May 1917, are today being buried with full military honours in northern France.
The ceremony at the Ecoust-Saint-Mein cemetery comes four years after the men's remains were found in a field near Bullecourt, Arras, in 2009.
French farmer Didier Guerle discovered the bodies when he was using a metal detector to clear his fields of wartime ammunition.
Lt Pritchard, who was 31 when he died, was identified by a silver bracelet, and Elphick, 28, by a signet ring carrying his initials.
Among the expected guests will be Lt Pritchard's nephew, great nieces and their families, and Pte Elphick's two grandsons and their families.
Prince Michael of Kent, the HAC Royal Honorary Colonel, will also attend the service.
The two men were part of the Honourable Artillery Company (HAC) and were among the first British soldiers sent to France in 1914.
Lt Pritchard, born in Wandsworth, south-west London in 1886, was the eldest of three boys in a family of seven.
His great niece Jackie Evans said that her family found out about the ceremony from an internet "war forum"
"It is very unusual to have an identified body to bury," she said.
"We saw the coffin yesterday and his cap, medals and sword. It was very emotional.
"We will be laying him to rest in a war cemetery so he will be surrounded by his colleagues."
Pte Elphick was born in Dulwich, south London, in 1889. He attended Alleyn's School before becoming a clerk at the Prudential Insurance Company in 1904.