Two convicted killers seduced correctional officer who helped their 'Shawshank' jail break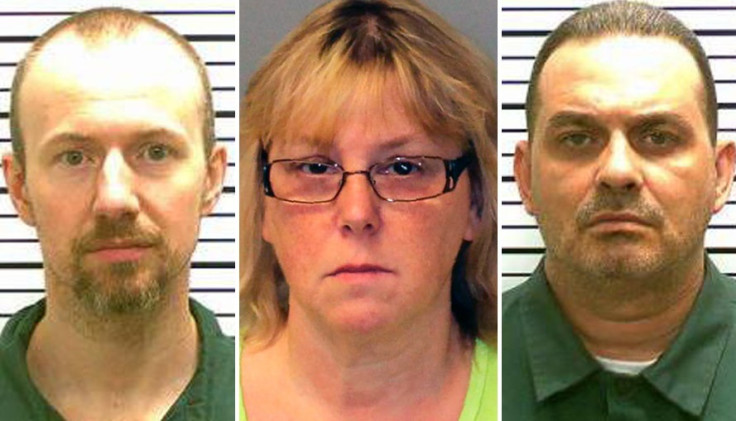 Two convicted killers were both having sex with a married correctional officer almost every day in the lead up to their "Shawshank"-style escape from a New York prison. In a new report following a widespread investigation into the escape, it emerged that killers David Sweat and Richard Matt manipulated Joyce Mitchell into helping them escape.
They broke out of the Clinton Correctional Facility in Dannemora on 6 June 2015, suggesting to Mitchell that they would settle on an idyllic beach in Mexico when they got out. For three weeks, the escaped killers evaded police.
But the manhunt ended on 28 June, when Sweat was shot and captured by police close to the Canadian border. Two days earlier Matt had been shot and killed in a wooded area around 30 miles (48km) west of the prison.
State Inspector General Catherine Leahy Scott said Sweat and Matt began relationships with the mother-of-one, and Matt had even told her he loved her. This was, the report says, to convince her to bring in the power tools they used to cut through pipes running underneath the prison to mount their escape.
Both of the inmates had been sneaking off with Mitchell, a civilian supervisor in the prison tailor shop, to have sex while other inmates kept lookout. The state inspector concluded the escapees should have been caught up to 400 times before their widely publicised prison break. 1,300 state, federal and local law enforcement personnel hunted for the duo at a cost of $22.8m (£15.6m) in overtime.
Mitchell, as well as another prison worker, gave them the tools they used to tunnel through steel cell walls and pipes at the maximum-security prison. They left behind a note mocking staff saying "have a nice day" and a picture of Sopranos star James Gandolfini with a message saying: "Time to go, Kid!"
Mitchell also talked about killing her husband, a prison instructor, with the pair but made a U-turn after the escape failing to meet up with them at a rendezvous point, leaving them to escape on foot.
The report concluded that chronic staff complacency and failures of basic security procedures were to blame for the successful escape. It said: "The extent of complacency and failure to adhere to the most basic security standards uncovered by my investigation was egregious and inexcusable."
The pair had spent an estimated 85 nights exploring the prison for escape routes as 400 inmate bed checks should have been made. They climbed down catwalks and through tunnels before cutting through a steam pipe and escaping via a manhole.
Matt was serving a 25 years to life sentence for killing his former boss whilst Sweat was serving life without parole for killing a sheriff's deputy. Mitchell pleaded guilty to bringing the pair hacksaw blades and other tools.
© Copyright IBTimes 2023. All rights reserved.