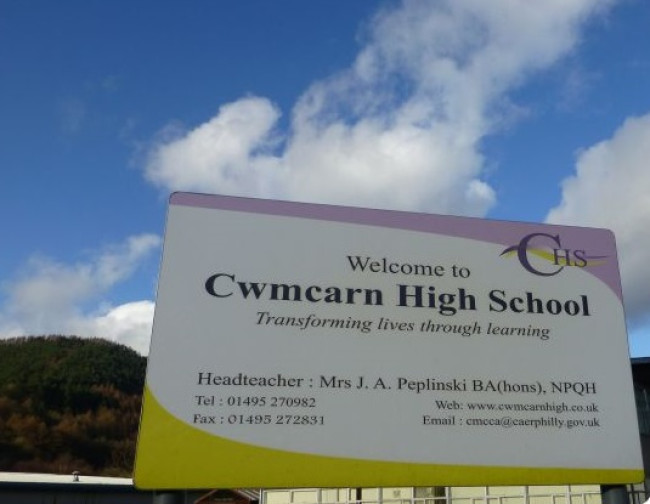 Two schoolgirls have been expelled from Cwmcarn High School in Wales after being arrested on suspicion of plotting to murder their maths teacher.
The teenagers, aged 14 and 15, were allegedly overheard discussing a knife attack on Alison Cray, 46.
It came days after the murder of teacher Ann Maguire, 61, who was knifed to death in a Leeds classroom.
The 15-year-old was arrested on suspicion of threats to kill, possession of a "bladed article" on school premises and conspiracy to commit murder. A kitchen knife is believed to have been found in her bag. Her 14-year-old friend was arrested on suspicion of conspiracy to commit murder.
Both pupils have moved from the school near Newport, to a special education unit.
A council spokesman said: "Both girls were permanently excluded."
The school's chairman of governors Gary Thomas praised the swift action.
He said: "We thank parents for their positive calls."
A girl aged 14 was arrested on Tuesday for possessing a knife at Rainham School for Girls in Gillingham, Kent, police said.
Two 10-year-old boys were suspended last week from Clapham Terrace Community Primary School in Leamington Spa, Warwickshire, after attempting to poison their teacher, Emma Place, with a bleach-like chemical.
The 39-year-old was told by another pupil just before she took a sip of the deadly concoction that was poured into her cup of coffee. She has decided not to press charges against the pupils, who are believed to be remorseful about their actions and are being disciplined by the school.