The Yotaphone 2, which has screens on its front and back, is now on sale in the UK, priced at £555 and available at a pop-up shop in Shoreditch, east London.
From the front, the Russia-made Yotaphone 2 looks like any other smartphone, with a 5in Full HD display and Android 4.4 KitKat - but turn the handset around and you'll find another 5in screen on the back, but this one is e-ink, like a Kindle book reader.
Being touch sensitive, the rear screen, known as the Always-On Display, can be used to control the phone in exactly the same as the front screen, but far more efficiently, making the battery last much longer.
A new species of phone
The e-ink display produces 16 shades of grey instead of colour, but it can be read more easily in bright sunlight, permanently show notifications without draining the battery, and using a feature called YotaSnap, can show content after the phone's battery has completely died.
Important documents like maps, contact details or the QR code of a plane ticket can be stored on the rear screen and will stay there when the battery dies because e-ink displays only draw power when changing what's on them. This also means a photograph or custom design could be permanently displayed without using any power at all. It has a resolution of 960 x 540 and a pixel density of 235 per inch; both screens are protected by Gorilla Glass 3.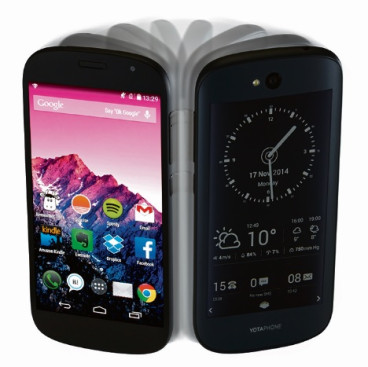 Yota CEO Vlad Martynov said: "We believe our technology constitutes an entirely new species of mobile device, not just by integrating a power efficient paper display but by making two screens work in harmony."
The frugality of the rear screen is used to preserve battery life. When charge drops below 15% the Yotaphone 2 automatically shifts its entire user interface to the back, shutting down the colour screen and providing another 8.5 hours of use.
Turn the phone back around and it's a fairly high-end Android. The 5in AMOLED screen has a resolution of 1920 x 1080 and a pixel density of 442 per inch - more than an iPhone 6 - and power comes from a Snapdragon 800 2.2GHz quad-core processor with 2GB of RAM.
The 4G-ready Yotaphone 2 includes wireless charging, 32GB of storage, weighs 145g and is 8.95mm thick. There's an 8-megapixel (MP) camera on the back and a 1.2MP one on the front, both of which can use the rear screen as a viewfinder, making it easier to line up self portraits with the rear camera.
Availability and price
The Yotaphone 2 is on sale in the UK now, and can be bought from 6pm this evening at a pop-up shop off Brick Lane in Shoreditch, east London, as well as on Yota's website. The phone costs £555 in the UK and is expected to sell for around €700 in Europe.