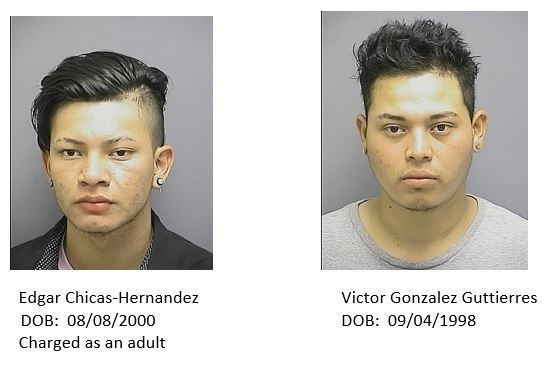 Police in Maryland have arrested two male teenagers for kidnapping and raping a classmate. Authorities in Frederick said a third suspect is on the run.
The victim was reportedly grabbed by three young men as she walked home in the Hillcrest neighbourhood on 1 September. Police said the suspects hit the victim, pulled her hair, forced her into a car and drove her to an undisclosed area apartment where she was then raped.
"All three males took her into a car at knifepoint and took her to another apartment in the area, at which point, two of the males allegedly raped her," Frederick Police Detective Andrew Alcorn told WBAL-TV 11.
The victim was able to identify two of the suspects as her classmates: 17-year-old Edgar Natanal Chicas-Hernandez and 19-year-old Victor Antonio Gonzalez Gutierres. She was unable to identify the third suspect because his face was covered, police said.
According to police, the victim said Chicas-Hernandez and Gonzalez Gutierres raped her while the third suspect filmed the hours-long attack. The suspects then dropped the victim off at her home and threatened her not to tell police or else "next time it will be worse".
Through their investigation, police learned that a 13-year-old female acquaintance of the victim may have been the mastermind of the whole attack. "We believe that the younger acquaintance did know that this was going to occur," Alcorn said.
The acquaintance contacted the victim's boyfriend on social media days before the attack and said, "She had someone who was going to rape and extort money from (the victim). (The girl) asked if he wants to be part of her plan because it will be fun," charging documents reveal.
The boyfriend declined to participate in the attack, police said. After the attack, the 13-year-old girl "said she had a video of the rape and that she would show it to him if he gave her one night of pleasure."
According to The Frederick News-Post, when questioned, the younger girl admitted that Chicas-Hernandez and Gonzalez Guttierres would try to implicate her. However, she repeatedly denied any involvement in the crime, charging documents said.
Chicas-Hernandez was arrested on 12 September and charged as an adult due to the seriousness of the charges. Gonzalez Gutierres was arrested the following day.
They were both charged with kidnapping, first-degree rape, sodomy, and first- and second-degree assault. Both were denied bail.
Police are working to recover the video and are searching for the third suspect, WBAL-TV 11 reported.
"This was not a case of mistaken identity or random attack. This was definitely they knew each other. As to their motive, we don't know the answer to that question," Alcorn said.