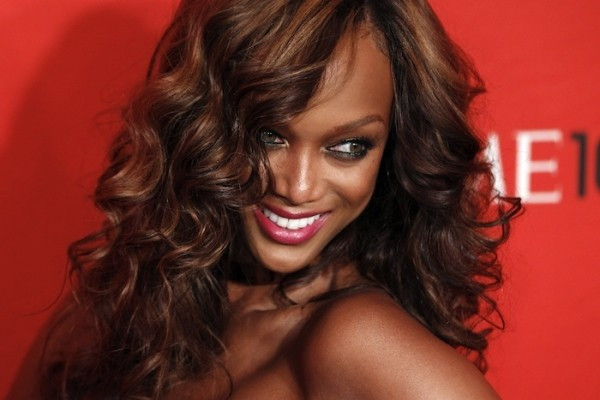 What better day for Tyra Banks to release the first photo of her "miracle baby boy" than on Valentine's Day. The America's Next Top Model host announced her son's birth with long-time partner Norwegian photographer Erik Asla on 27 January.
Celebrating the day of love, Banks posted a photograph with her son York Banks Asla on 14 February on Instagram with the caption saying: "This is the Happiest Valentine's Day of my life. York, Daddy @erikasla and I send you so much love." The couple had opted to use a surrogate following the 42-year-old model's fertility problems.
Banks had earlier shared the good news with a picture of a baby hat and the caption, "The best present we worked and prayed so hard for is finally here. He's got my fingers and big eyes and his daddy Erik's mouth and chin."
She went on to voice her gratitude for the surrogate who helped them carry the baby to term. "As we thank the angel of a woman that carried our miracle baby boy for us, we pray for everyone who struggles to reach this joyous milestone. York Banks Asla, welcome to the world."
Last year, Banks had opened up about her struggles with fertility, difficulty in conceiving and her bout with IVF treatments. I've had some not happy moments with that, very traumatic moments," she told People magazine at the time. "It's difficult as you get older. It's not something that can just happen."
She shared her plans to have more than one child in the interview, saying: "I hope (for kids). I don't just want one child. I want a litter! And I want to be the kind of mom where my child can come to me for anything."