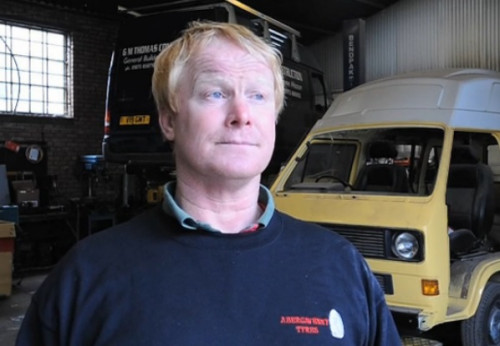 A thief who took a beating from the man who caught him stealing has blasted the justice system, insisting: "I'm the victim!"
Kevin Green, 44, spoke out after Andrew Woodhouse, who caught him stealing diesel fuel from his company and attacked him, was cleared of grievous bodily harm.
Green was left with two broken legs and a broken arm when Woodhouse caught up with him and accomplice Tim Cross, 32, as the pair were escaping from Woodhouse's tyre yard in Abergavenny with fuel stolen from his equipment. The yard had been plagued by a series of thefts totalling £25,000.
A jury took just 20 minutes to clear Woodhouse of GBH with intent, at Cardiff Crown Court.
Public sympathy has been in short supply for Green, who still has casts on both legs. But he insisted that he was the real victim because his injuries have stopped him from going fishing with his godson Cross.
Green said: "I'm the victim in all this.
"He's telling people he's suffered. "I don't think he realises what suffering I had to go through, which is 10 times more than him.
"No-one understands the pain and suffering I've been through because of that man," he told the Sun.
Green and Cross pleaded guilty to theft and were fined £75. Green said he still had nightmares about Woodhouse wrestling a fencepost off him and turning it on him.
"I can't go fishing or walk the dogs now. I can't leave the house.
"He went at me like a madman hitting me with a stick - all over 50 quid's worth of diesel.
"I still have nightmares about what happened to me."
Woodhouse told Wales Online that he attacked Green and Cross in self-defence.
"People should be able to stop others from taking stuff which doesn't belong to them. If they're armed with a weapon to use on the owner, then there's only one thing you can to defend yourself," he said.
"I try to think if I could have done anything different but the truth is I can't think of anything I would have done different, except let them go and carry on with the crime."