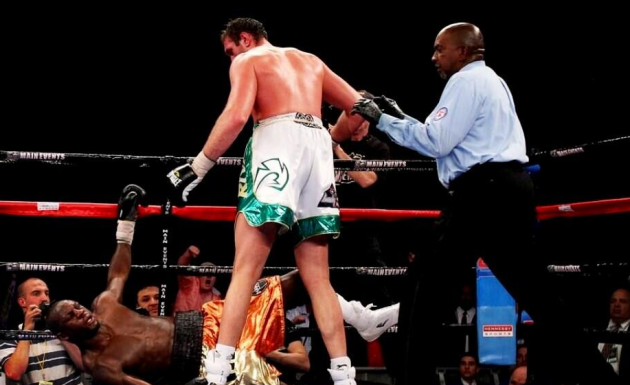 Hughie Fury, younger cousin of unbeaten heavyweight Tyson, has underlined his intention to better the feats of Mike Tyson and become the youngest heavyweight champion in history.
The 18-year-old has racked up five victories since turning professional in March of this year, culminating in a first round knockout victory over Ladislav Kovarik earlier last weekend. Boosted by his older cousin's own praise, Hughie Fury plans on bettering a record set by Tyson before the Manchester fighter was even born.
"I've got plenty of time," Hughie said, ESPN report. "I'm young, improving every single fight and I will beat Mike Tyson's record as youngest ever heavyweight champion."
The younger Fury has just shy of 20 months to better the record set by Tyson in November 1986, when Iron Mike knocked out Trevor Berbick to win the WBC heavyweight title aged just 20 years, four months and 22 days.
Tyson Fury, who is in the midst of a war of words with David Haye, has already backed Hughie to eclipse the long-standing record, outlining his own intentions to power through his remaining challenges in the heavyweight division before allowing his cousin to step up.
"My plan is to knock out (David) Haye, then Wladimir Klitschko, Vitali Klitschko. And then vacate a title for my younger cousin Hughie Fury to beat Mike Tyson's record to become youngest ever heavyweight champion."
The unbeaten Mancunian has been determined to arrange a fight with Haye this year, and recently declared that a huge British showdown was "99%" done.
Haye however, who was scheduled to take on Manuel Charr later this month before a hand injury forced his withdrawal, maintains nothing is on the table as of yet, although he would be happy to accept the challenge.
"For everyone asking if I'm fighting Fury. I currently have no agreement, or contract in place. But a fight later in the year would be fun," Haye tweeted yesterday.