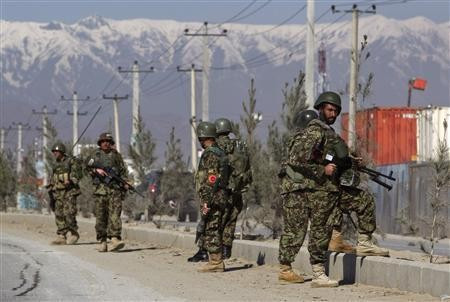 A U.S. Army sergeant who killed three unarmed Afghan civilians and cut fingers off the corpses as trophies has been jailed for life.
Staff Sergeant Calvin Gibbs, 26, was found guilty by a military court of three counts of premeditated murder and sentenced to life in prison, but is eligible for parole after eight years.
Gibbs was the leader of a rouge platoon he named the "Kill Team" who murdered unarmed civilians and collected their body parts as war trophies.
Gibbs, from Billings, Montana, was found guilty of 15 counts in all, including three charges of premeditated murder for his role in three so-called "thrill kills" in southern Afghanistan between January and May last year.
One of his victims included a 15-year-old unarmed boy, Gul Mudin, who was picked at random in a field. Gibbs instructed one soldier, Jeremy Morlock, to throw a grenade at Mudin. A second soldier, Andrew Holmes, then shot the boy. The soldiers posed with the boy's body for photos afterwards.
The staff sergeant was also convicted of shooting Marach Agha whilst he slept by a roadside, then placing a Kalashnikov next to his body to make it look as if he was fighting. Gibbs kept part of the victim's skull as a trophy.
Three co-defendants in the case pleaded guilty, and two testified against him, all from the 5th Stryker Brigade unit. During the case, Gibbs was portrayed as a bloodthirsty leader who recruited other soldiers to murder Afghan civilians he described as "savages."
According to a statement by Morlock, when Gibbs joined the platoon in 2010 he began describing scenarios to kill civilians and how easy it would be to get away with it.
Morlock is currently serving 24 years in prison for his involvement.
Gibbs had claimed his unit was engaged in genuine combat, while admitting that he took fingers and teeth from the corpses.
"In my mind, it was like keeping the antlers off a deer you'd shoot... You have to come to terms with the things you're doing," he said.
A jury of five took four hours of deliberation before announcing the guilty verdict on all 15 charges.
Five soldiers from the unit formerly called the 5th Stryker Brigade were accused of murder, although Gibbs and Morlock were the only ones charged with more than one killing.