Conor McGregor has brushed off the wild scenes that unfolded between him and Nate Diaz at the UFC 202 press conference, where all hell broke loose between the two fighters.
After McGregor arrived at the MGM Grand in Las Vegas 30 minutes late, Diaz and his entourage left the stage, heading towards the doors before they and the Dublin-born fighter began exchanging insults.
A member of Diaz's crew appeared to throw a water bottle at the stage, prompting a furious McGregor to leap up from his seat, snatching bottles and cans from the table in front of him and launching them back.
UFC president Dana White, the man charged with keeping the peace on another bad-tempered meeting between the rivals, pleaded with McGregor to stop before dragging the 28-year-old off stage and calling the press conference to a close.
"It was handbags," McGregor insisted after the incident, speaking to Lance Pugmire of the LA Times. "If they want to fight, let's fight. I just bottles being thrown, I was like, 'Right, f*** that. You want to start throwing bottles, I'll throw cans.' But it was all in self-defence."
Speaking to UFC Tonight on Fox, Diaz said it was McGregor's late arrival that prompted him to leave. "Like I said, he walked in like he was the show. But I thought the show was over so I left the show."
There were no reported injuries to members of the public or press in attendance at Wednesday's melee, but both fighters could face sanctions from the Nevada State Athletic Commission.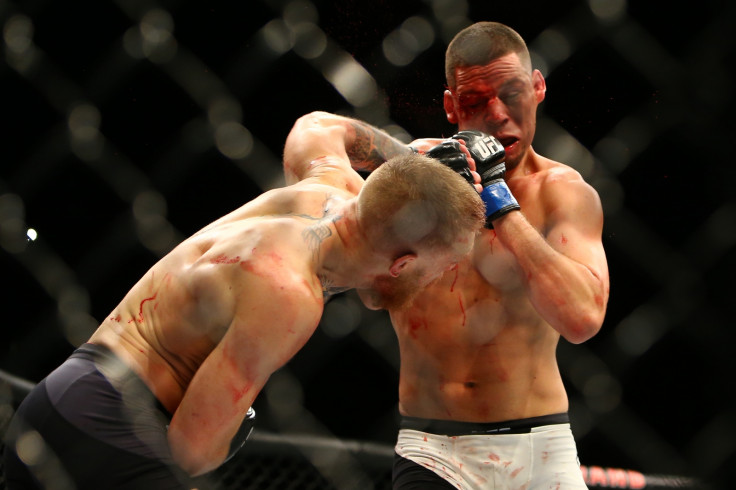 Diaz ended McGregor's undefeated record in UFC when he choked the Irishman out at UFC 196 last March. A rematch was initially put on ice when McGregor threatened to retire over a row with the company due to what he felt were excessive promotional demands put on his shoulders.