UFC 202: Conor McGregor wants trilogy fight with Nate Diaz, says he is not keen on facing Jose Aldo
Conor McGregor beat Jose Aldo to win the Featherweight title at UFC 194.
Ultimate Fighting Championship (UFC) superstar Conor McGregor has dashed president Dana White's hopes of a drop down to the featherweight division to unify the title, claiming that he is not too keen on fighting the current interim featherweight champion Jose Aldo.
Dana White had earlier promised that win or lose, McGregor will drop down to the featherweight division and defend his title against Aldo. The Irishman beat Aldo at UFC 194 back in December in just 13 seconds to win the featherweight title. However, the Brazilian bounced back to defeat Frankie Edgar to win the interim featherweight title at UFC 200 last month.
The 28-year-old was present at the bout between Edgar and Aldo, hoping to see Edgar win but in the end it was the Brazilian star who came out on top.
"That's why I was there. I wanted to see if this m**********r comes through this and can do what he's saying, well then it's on. But Aldo ended up taking that belt again. I was scheduled to fight Aldo many times. We had like a two-year media run, the whole thing. I spent so much time with that man and he pulled out. Then we finally got into it and it took me one shot to the crown to shut his lights out. So I don't know what he's thinking. Right now, I'm prepared for a war and that's that", McGregor said, as quoted by MMAFighting.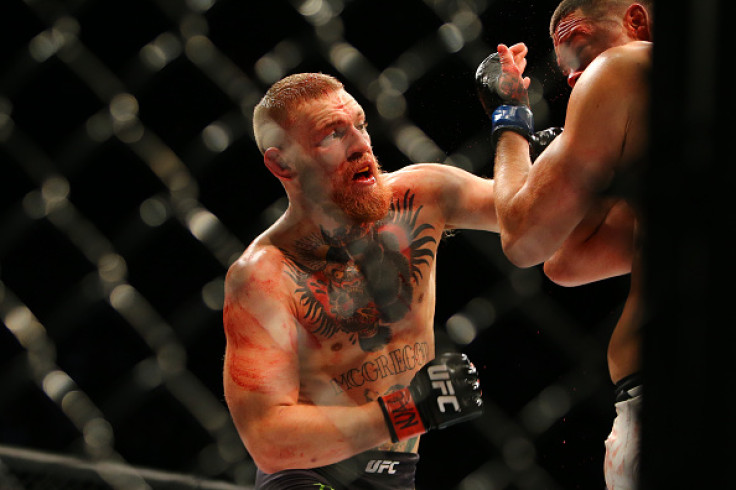 McGregor is currently training to take on American fighter Nate Diaz at UFC 202 in what is a re-match of UFC 196. Diaz inflicted a first UFC loss on McGregor by making him submit to a rear-naked choke in the second round. The Irishman is looking forward to a third fight with Diaz if he beats him at Las Vegas on 20 August.
"One-hundred percent. Of course. Maybe not straight away, but most certainly this will be a trilogy fight. Me and the boy have something and it ain't finished yet", the Irishman added.
© Copyright IBTimes 2023. All rights reserved.