Team Alpha Male coach Justin Buchholz is predicting a win for Jimmie Rivera against John Lineker and says the winner would be a "great next fight" for Cody Garbrandt.
Rivera (21-1 record in MMA) was originally set to face former bantamweight champion Dominick Cruz at UFC 219 on 30 December.
However, Cruz had to withdraw due to a broken arm as Lineker (30-8 record in MMA) stepped in on short-notice for the year-ending pay-per-view.
The winner of the bout will ideally face new champion TJ Dillashaw next and Buchholz believes that Rivera, who is on a 20-fight win streak, should have what it takes to get the decision against the hard-hitting Brazilian.
"I think Rivera can win that because Lineker is almost one-dimensional, he's kind of a plotter," Buchholz told IB Times UK in Singapore. "[He has] knockout power, he's got to land that big punch and I don't know if he's going to catch Rivera over 15 minutes you know.
"Plus he's [Lineker] taking the fight on a short-notice and Rivera also has some decent wrestling. Lineker's hard to take down but Rivera is a more well-rounded fighter with kicks and what not so I think he's going to win a decision.
"But I like Lineker, I like his style. We'll see. Thinking about it, he's got a good chance in that fight because Rivera isn't probably going to back down or point-fight him too much. He might get into a brawl and get caught but I think the odds should be with Rivera on that one."
Buchholz was in the corner of Garbrandt (11-1 record in MMA) at UFC 217 earlier this month when "No Love" lost his bantamweight title to Dillashaw.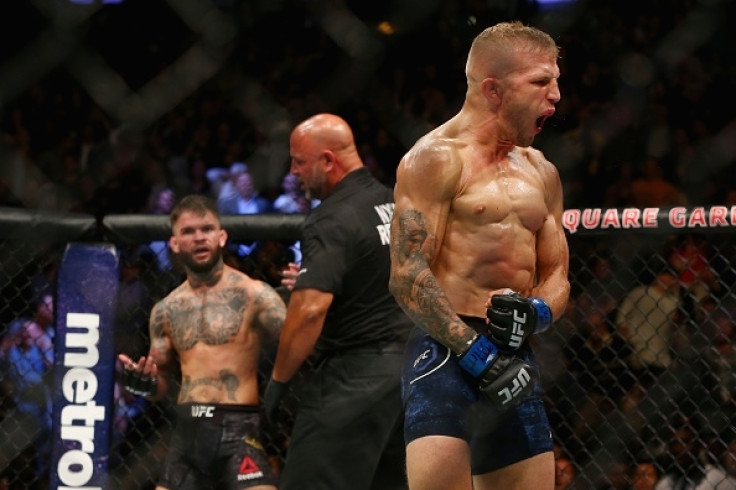 There is currently no update on when Garbrandt will compete next but Buchholz likes the prospect of his fighter facing the winner of the UFC 219 bantamweight bout, with Dillashaw targeting a flyweight title fight with Demetrious Johnson.
"No, no. Absolutely no indication right now of when Cody will compete again," he added. "I think that [winner of Rivera vs Lineker] would be a great next fight for him for sure."
"Cody's going to do his thing and when they give him a next opponent, he'll take that guy out."