UFC: Dana White mocks Floyd Mayweather and asks boxer to 'respect' Conor McGregor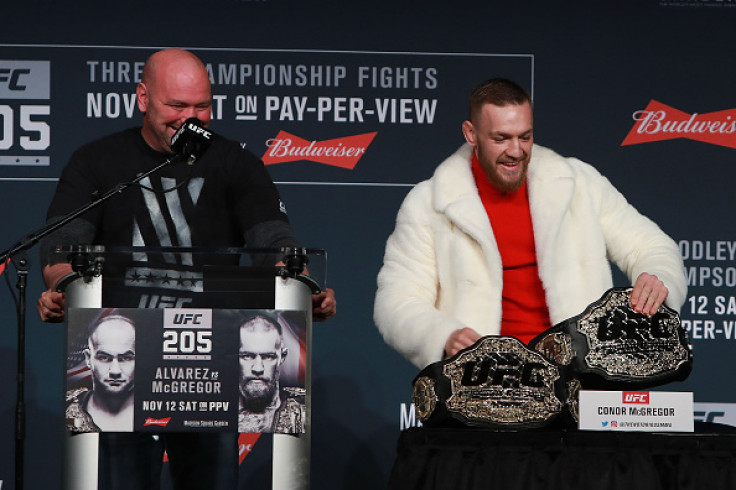 KEY POINTS
Conor McGregor has challenged Floyd Mayweather again after recent comments by the boxer.
McGregor became the first fighter in UFC history to hold two-weight titles simultaneously.
Ultimate Fighting Championship's (UFC) president Dana White has slammed Floyd Mayweather for his comments on Conor McGregor after the five division world champion boxer labeled comparison with the Irishman as disrespectful. Apart from that he also suggested that the UFC superstar is an ant, while calling himself an elephant.
McGregor recently became the first fighter in UFC history to hold two-weight titles simultaneously after his second round knockout win over Eddie Alvarez. White mocked Mayweather's style of fighting suggesting that he is a boring fighter while calling for the American boxer to respect the Irishman, who has a 21-3 win-loss record which includes 18 knockouts.
"Conor McGregor ... if he touches you, you go to sleep. Floyd puts people to sleep too, with his fighting style, not with his hands," White told TMZ.
"You know how Floyd knocks people out? When they're not looking. Watch the Victor Ortiz fight."
"This kid's just getting started. This kid's 28 years old. Floyd can say what he wants about Conor, but even other fighters have to respect him. He's special. Floyd's never even come close to doing to other fighters what Conor does," the UFC chief added.
McGregor is not one to take insults lying down, and has responded to Mayweather's comments by challenging him to a fight. The lightweight and featherweight champion has demanded a $100m (£80.4m) to fight the 39-year-old under boxing rules, claiming that the American is afraid of a real fight.
Mayweather had suggested earlier this year about the prospect of organizing a fight with the Dublin-born MMA fighter, but revealed that the Irishman rejected the offer. It looks to be back on, but McGregor has reiterated that it will take $100m to get him in the ring with one of the highest paid athletes in recent years.
"Floyd's not ready for this. Much respect to Floyd. He's a solid businessman on what he's been able to do, he's a fucking animal at what he's been able to do. But as far as real fighting, as far as true pure unarmed combat, Floyd don't want none of this," McGregor said, as quoted by Esquire.
"He wants a boxing match, he doesn't want a fight ... I want $100 million cash to fight him under boxing rules. He's afraid of a real fight," the two-weight title holder added.
© Copyright IBTimes 2023. All rights reserved.