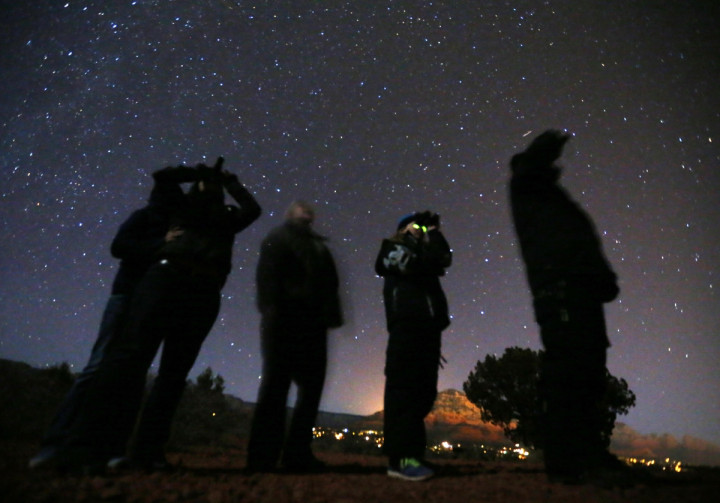 A paranormal investigator has appealed for witnesses on Facebook after a possible UFO sighting in Wales.
Gavin Davies spotted an unidentified cluster of lights in the sky over Haverfordwest in Wales on Thursday evening.
The Paranormal Chronicles website editor described the object as fast moving, with one larger bright light with two smaller lights around it and was heading east.
"My immediate suspicion was it was the International Space Station but I checked and it had already passed," Davies told the Carmarthen Journal.
"It is literally a UFO," he said. "I'm not saying it's aliens but at this time we don't know what it is."
The UFO investigator also revealed he had received several acknowledgments from people who had also spotted the unidentified objects. "A couple from St Clears area said they had seen it travelling towards them, and later on someone from Narberth said they had seen it at 11.10pm."
A post on the Paranormal Chronicles website said: "Reports suggest [the object] was too bright and large to be a Chinese lantern and [that it]made "drastic" course changes.
"No sound was heard coming from the object. The smaller lights "Buzzing" it have not been [sic] identified as of yet.
"If you have any information or able to get film or photographic documentation then please contact the Paranormal Chronicles at: Paranormalchronicles@aol.com"
Most of the latest UFO sightings in Wales date between 2007 and 2009. A few date back to the 1970s and 1990s, with the oldest from 1954.
One of the most widely documented was in 2008 when a South Wales Police helicopter crew noticed a brightly lit object above them. The crew described it as 'flying saucer shaped'. Then suddenly, the object hurtled down towards them at 'great speed', causing the pilot to take evasive action, banking the aircraft sharply.
A spokesman for South Wales Police said: "We can confirm the Air Support Unit sighted an unusual aircraft. This was reported to the relevant authorities for their investigation."
Is this a UFO sighting in Wales?