Uganda elections 2016: What impact will 'crime preventers' have on the presidential poll?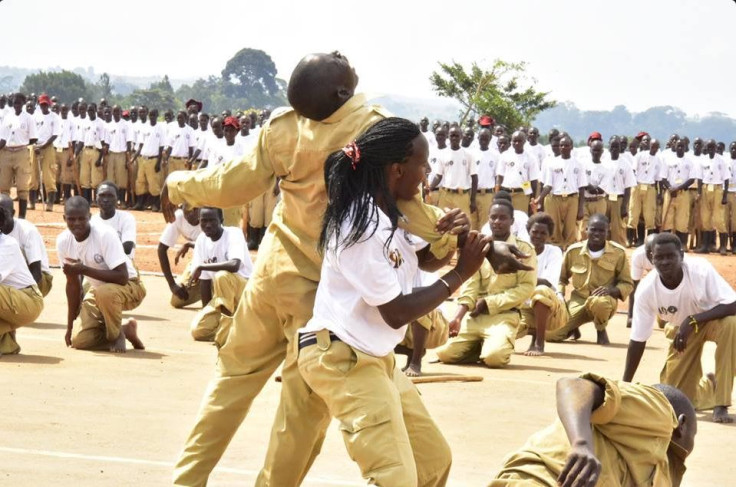 With less than a month to go before Uganda's general election of 18 February, conflicting reports surrounding the 'crime preventers' could deter electors from going out to vote, experts are warning.
IBTimes UK looks at who the recruits really are, and whether their existence could impact the embattled elections.
Who are the crime preventers?
Crime preventers are officially a volunteer group of civilians recruited and managed by security forces to report on and prevent crime in cooperation with the 15,000-strong police and their local communities. Police spokespeople said the recruits also provide intelligence on domestic-related crimes, land wrangles or burglaries.
Following the gang-rape of Peninah Kobusingye, a second year student at Makerere University, in January 2014, 700 students from the university received a seven-day training in self-defence skills. Local media reported that the students then underwent "training in political ideology and economy, martial arts, military drills, and gun stripping and assembling skills".
The phenomena is not new. The first crime preventers were trained at Katwe Police Station in Kampala in 1994 according Monitor. In 2010 recruits were given police uniforms to provide security during the 2011 general elections.
Now, a new band of vigilantes has been recruited in the lead-up to the upcoming presidential elections. Yet, little is known about the groups' exact mandate or command structure. There is no legal statute establishing the program.
A 'militia'?
A coalition of organisations, which includes Amnesty International, Human Rights Watch, Human Rights Network Uganda (HURINET-U), Chapter Four Uganda, and Foundation for Human Rights Initiative (FHRI), describe the recruits as a special 'militia' linked to and designed to serve President Yoweri Museveni's ruling National Resistance Movement (NRM) party.
During several training sessions and graduations, recruits wore yellow T-shirts, the colour of the NRM. A training manual from one region read: "Every good thing you are seeing around is as a result of good NRM governance."
After documenting multiple instances of human rights abuses, including torture, extortion and arbitrary arrests, the organisations claimed the recruits are used as a instrument "aimed at intimidating or reducing support for the political opposition".
Gabrielle Lynch, associate professor of comparative politics at the University of Warwick, UK, an expert currently on research leave in Uganda, told IBTimes UK she agreed that "there is evidence that crime preventers have already been used to intimidate some opposition supporters and mobilise for the ruling party".
"In addition, the fact that there is a widespread popular perception that they might be used in that way is a dangerous thing for the elections. The fact that their role is unclear - both legally and in the public mind - raises a perception that they could be used in that way during the poll and in the immediate aftermath of the election," said Lynch.
Hundreds of thousands?
One of the main issues is that since there are no official records of the number of crime preventers, the figures may have been deliberately inflated to fuel fear across the nation, said Lynch
"It's very unclear how many crime preventers there are. Some people feel that the numbers may have been exaggerated, which also has a negative impact as people may think potentially that thousands of these people across the country could come out, if required by the state."
Uganda's Inspector General of Police, Kale Kayihura, reportedly set a target of 1.6 million crime preventers - the equivalent of around 30 in each of Uganda's 56,000 villages. In Lango sub-region - where 1.5 million people resided according to the latest census - the local police claimed that 200,000 crime preventers had been recruited.
'Targets of Uganda's opposition'
The government has refuted the allegations. Minister for Security in the Ugandan Cabinet, Mary Busingye Karooro Okurut told Vision Group (which is 53% owned by the Ugandan government) that the crime preventers had become "targets of [the opposition's] undeserved and indiscriminate criticism".
"The truth is that crime preventers are ordinary citizens, trained by the Uganda Police Force to detect, prevent and fight crime in their villages; which should redefine this as a case of community policing," she said. "They work hand in hand with the community but under the direct and strict supervision of the Police."
Okurut argued the recruitment "is perfectly within the power of the Inspector General of Police to do so".
Prime Minister Ruhakana Rugunda stated that "an enabling law should be put in place to guide the implementation of community policing, including the activities of crime preventers," but the draft law is yet to be sent to parliament. Okurut said that in the meantime, they are operating under the police and will defend everyone, regardless of the party colour or political persuasion".
The police informed Amnesty International that they had drafted standard operating procedures for crime preventers as of November. IBTimes UK contacted both the Ugandan Police Force and the Minister for Security for a comment but received no response.
---
In this series on Uganda, IBTimes UK takes a closer look at the major issues at stake, as some 15 million Ugandans prepare to head to national elections on 18 February.
© Copyright IBTimes 2023. All rights reserved.