A Ugandan opposition movement, dubbed Free Uganda, has warned incumbent President Yoweri Museveni 'the people's power revolution will happen no matter what' after police forces arrested opposition presidential candidate Kizza Besigye along with two party officials on Friday (19 February) in the capital Kampala.
Political tensions are running high after 15 million Ugandans headed to presidential and parliamentary elections on 18 February, in which Museveni, who has ruled Uganda for 30 years, was competing to win his fifth term in office. There were reports of violence breaking out in some areas.
The second arrest in 24 hours of main opposition leader Dr Kizza Besigye has prompted the subversive coalition describes itself as "the unifying platform for all patriotic and freedom-seeking Ugandans is being welcomed with jubilation by all Ugandan people within and outside Uganda", to call for action.
"The arrests are going to be the God-sent trigger and spark for the People Power Revolution that will save the motherland from the barbarism and savagery of the Museveni rule," a statement by Free Uganda said on Friday following the arrest.
Leaders' arrests 'the biggest blunder of the century'
Besigye was detained for several hours before being released on Thursday (18 February) before being arrested for a second time on Friday. His party condemned the arrest. Meanwhile, reports have emerged on Friday of both police and army sealing off second main opposition leader Amama Mbabazi's house in Kololo.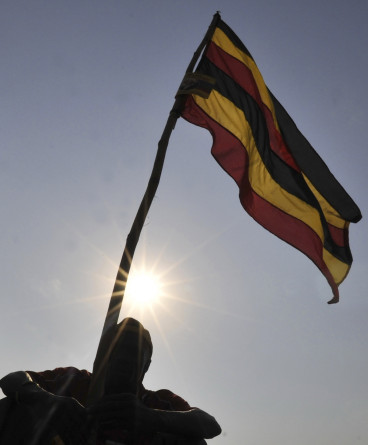 "As the clock ticks away towards the beginning of the long-awaited People Revolution, Museveni has decided to arrest all Ugandans opposition leaders, starting with Dr Kizza Besigye and Mr Amama Mbabazi," Free Uganda said.
"If Museveni thought that by arresting the leaders of the Revolution, Kizza Besigye, Gen Sejusa, Amama Mbabazi, etc, then he will subdue the people and be able to fraudulently declare himself president, then he has made the biggest blunder of the century," the group warned.
Free Uganda, who had previously called "on Ugandans to ready themselves for the final phase of the People's Revolution", forewarned the "struggle is going to be tough and painful, but the People are ready to sacrifice all if need be".
There were growing reports of angered crowds across a number of polling stations on Thursday, where voting was held up. Delays, which were in some parts due to undelivered electoral material such as ballots, transparent boxes or markers, have been described by opposition as an alleged "vote-rigging technique".
Free Uganda's revolutionary call comes as Besigye on Wednesday (February 17) said that he will launch a "defiance campaign" if there is evidence of fraud in the polls. "If we consider that this election is fraudulent to the extent that we reject the outcome, we shall do so," Besigye told Reuters.