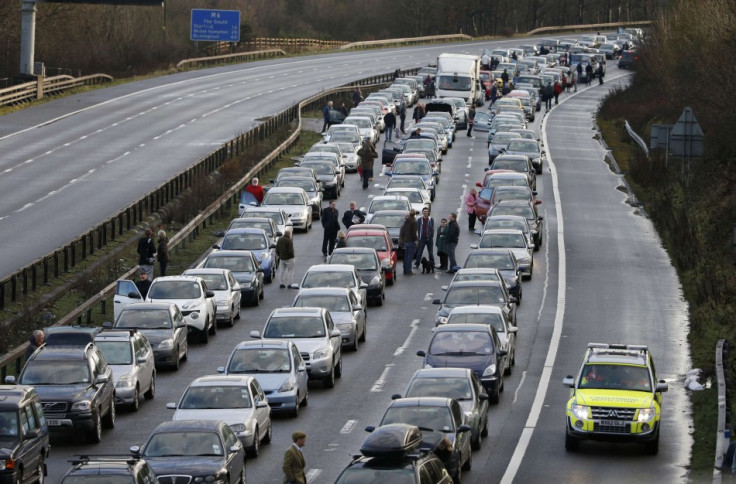 More than four million motorists could take to the roads across the country, with the festive rush set to begin on 18 December. Millions of people are preparing to visit friends and family for the Christmas break and drivers are being warned to make a head start to avoid the travel chaos due to begin tomorrow afternoon.
Drivers can expect to face heavy traffic, with up to three hour delays expected on some of the busiest routes due to road closures. Major arteries including the M25, M4 and M5 will be worst affected by the deluge.
Despite the bad news, Highways England has given some cause for festive cheer after it said that almost 400 miles of roadworks will be lifted by 6am on Wednesday 23 December. "This Christmas, we're clearing roadworks across the majority of motorways and major A-roads in England to help people make important journeys to see family and friends," Highways England Director of Customer Operations, Melanie Clarke said.
"Where possible, we've completed or lifted roadworks, leaving more lanes open and lifting many of the associated speed restrictions to help people travelling over the festive period," she added. "Drivers can do their bit to make their festive journeys run smoothly by planning longer journeys ahead of time and checking weather and travel conditions before setting out.
"It's also worth packing an emergency winter kit in your boot, before making any seasonal journeys this Christmas. Make sure you've got de-icer, an ice-scraper, warm clothes, boots and a torch, in case your vehicle breaks down."
Transport Secretary Patrick McLoughlin hailed the clearance of roadworks as a "big win for motorists". Around four million people are expected to fly out of the UK between now and the New Year, with 900,000 departures expected from Gatwick, 500,000 from Stansted and 400,000 from Manchester.