Two UK mechanics have custom built a vehicle using a Days Strider mobility scooter, an 80-horsepower four-cylinder Suzuki motor cycle engine, and parts taken from a racing go-kart that has successfully secured a place in the Guinness World Records. The Days Strider scooter, designed for indoor and pavement use, normally has a speed of 8mph.
The mechanics, David Anderson and Mathew Hine, took almost six months to develop the vehicle that has now been recognised as the "fastest mobility scooter in the world" by the Guinness Book of Records. The vehicle managed to hit a record speed of 173.16 km per hour (107.6 mph) in a competition at the Jurby Motodrome in the Isle of Man. Hine drove the scooter in the competition.
However, due to lack of front brakes, the scooter could not be registered for further road use.
According to the Guinness World Records, the speed of the scooter was measured as an average over 1/4 a mile. The duo managed to beat the previous record speed of 133.04 km/h (82.67 mph), achieved by Klaus Nissen Petersen from Denmark in 2012.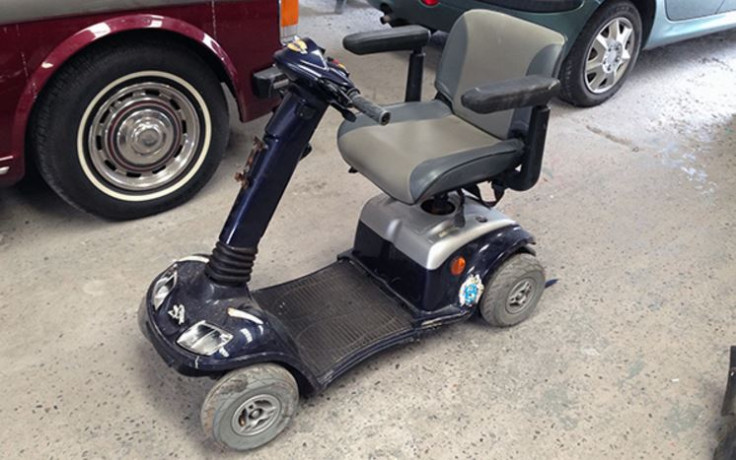 The duo said: "We took a 'Days Strider' mobility scooter and a racing go-kart chassis and re-designed the chassis to fit the dimensions of the scooter and the engine ... Wheels and tyres were taken from the go-kart as the original scooter wheels were only rated for 8 mph. The engine was taken from a Suzuki 600cc Bandit."
According to the Guinness World Record guidelines, the scooter has to be based on an existing available mobility aid. Although the engine could be modified or replaced to gain more speed, its surface must appear like a traditional motor scooter. Check out the video below to see the mobility scooter in action.
More about Innovations