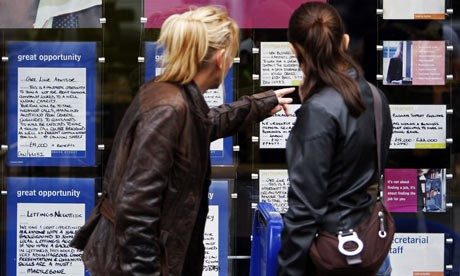 The UK employment rate rose 0.3 percent in the three months ending in January and the unemployment was unchanged, according to the Office for National Statistics, two positive snippets of economic news ahead of Chancellor George Osborne's 2013 Budget.
Employment lifted by 0.3 percent among the economically active population to 71.5 percent during November to January when compared with the quarter before. This is up 1.1 percent on the year.
There were 29.73m people in employment, up 131,000 on the quarter and 590,000 on the year.
Unemployment stuck at 7.8 percent on the previous three months, though it has fallen by 0.5 percent across the year. There are 2.52m unemployed people, up 7,000 on the quarter, but down 136,000 from the previous year.
Total and regular pay rose by just 1.2 percent however, far short of the CPI inflation rate of 2.7 percent and reflecting the tight grip on household finances.
The ONS said that there "continues to be a cut in the real value of pay."
It is often said that the labour market data is robust in the face of wider economic malaise, offering room for positivity.
However, those who work more than an hour a week are accounted for in the official employment number, as are people on unpaid government back-to-work schemes, and those who work in family businesses and benefit from the profits but do not necessarily derive an income.
The number of underemployed people in the UK economy - those who want to work more hours, but can't - has soared by 1m since the outbreak of the financial crisis.
Household incomes have been squeezed by stagnant wage growth, a high cost of living, and cuts to the government's welfare bill which has hit the working poor particularly hard.
Average earnings have tumbled to the same level in real terms as they were a decade ago.
Research by the Trades Union Congress shows that Britain's poorest workers pay out four times more because of the VAT hike to 20 percent in January 2011 than they will gain back from the government's plan to increase the personal allowance to £10,000.
The personal allowance threshold will rise to £9,440 in April. It is the amount an individual is allowed to earn before they start paying the basic rate of income tax, which is 20 percent.
Lifting the personal allowance threshold by £100 is ten times cheaper for Chancellor George Osborne than cutting VAT by a penny. HMRC estimates say raising the personal tax allowance by £100 in 2013/14 would cost Osborne £510m. Cutting the rate of VAT by just a penny in the pound would cost him £5.1bn.
---
Follow @shanecroucher