British firefighters are to be given a futuristic equipment upgrade in the form of a tech-packed, sci-fi helmet that has been likened to the movie 'Starship Troopers'.
Following the tragic events of the Grenfell Tower blaze, which underlined the extreme pressures firefighters have to endure, a £6m contract has been handed to Huddersfield-based company, Rosenbauer, to supply the next-generation HEROS-titan helmet.
The modern-looking lid will set new standards in safety for firefighting operations with the ability to withstand temperatures from -40 to over 300C, while being lighter (1.3kg) than any other helmet used by firecrew in the world.
It also comes with an integrated light, the ability to fit a thermal imaging camera to search for people when smoke may limit visibility, and a fighter pilot-style flip down tinted eye protector.
The HEROS-titan has been in development for 18 months, where safety trials saw it put through its paces including submitting it to being hit with flames that exceeded 1,000C while impressively keeping the head temperature of a mannequin below 35C.
Rosenbauer's managing director Oliver North, speaking to the Huddersfield Examiner, touched upon the importance of increased protection for firefighters following the Grenfell Tower inferno as he signed off on a contract to supply 26,000 HEROS-titan helmets over the next two years.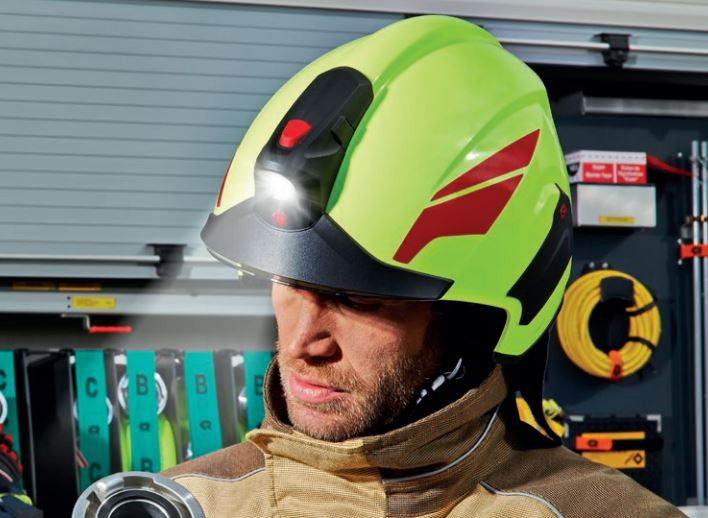 Rosenbauer has been supplying helmets to firefighters with its Extreme and Smart models, however the Titan is the most advanced yet.
The roll-out is said to be ready to go nationwide, however, exactly which brigades are likely to see the new futuristic helmets was not said.
The report claims it will see 'a score of fire and rescue services' with the new helmet. IBTimes UK has reached out to Rosenbauer UK for comment and will update this story.