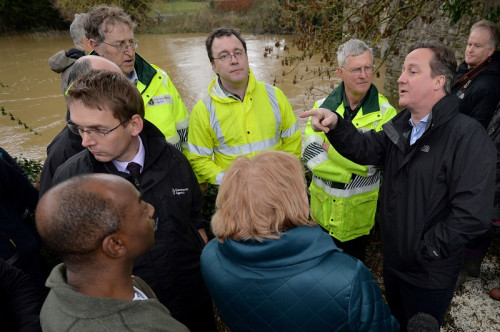 The Environment Agency is set to slash 1,700 jobs as part of a "massive" cost cutting plan which could risk England's ability to deal with floods.
The Environment, Food and Rural Affairs Committee (Efra) warned that the Environment Agency, which is the non-governmental department responsible with the UK's flood defences, could make the job cuts within the next 12 months.
The group of MPs disclosed the news in a report into Department for Environment, Food and Rural Affairs (Defra).
Defra has seen its budget slashed by £500m ($819m, €601m) since 2010 and now must find £300m in savings by 2016.
The organisation oversees 38 executive and arms-length agencies - of these, the Rural Payments Agency and the Environment Agency are the largest.
"Defra is a small ministry facing massive budget cuts and which relies on a large number of arms-length bodies to deliver many significant areas of policy," Anne McIntosh, the Efra committee chairwoman said.
She added: "Ministers must clarify how further budget cuts [of more than] £300m over the next coming two years will impact on the funding provided to these agencies and the ability of the department to respond to emergencies."
"Recent flooding events over the Christmas and New Year period reinforce the committee's concerns about cuts to the Defra budget and how these will be realised."
The coalition has agreed to increase capital spending on new flood defences to £370m in 2015/16.
But the Environment Agency, which employs 11,000 workers, has previously said it will cut 1,500 staff by October – 550 of which will be in the department's flood team.
Maria Eagle, Labour's Shadow Environment Secretary, slammed the Secretary of State for the Environment, Owen Paterson.
"It's clear that Paterson is a stranger to evidence-based policy making," Eagle said.
"He has failed to prioritise investment in flood defences nor explained how communities at risk from flooding will not be adversely impacted by major reductions in Environment Agency staff, despite evidence that extreme weather conditions are set to become more frequent."
But a spokesman for Defra said the department was currently spending more than £2.3bn on tackling the risk of flooding and coastal erosion.
He added: "Together with contributions from other partners, this is more money than ever before. We'll also be making record levels of capital investment and will be spending over £400m by 2020/21."