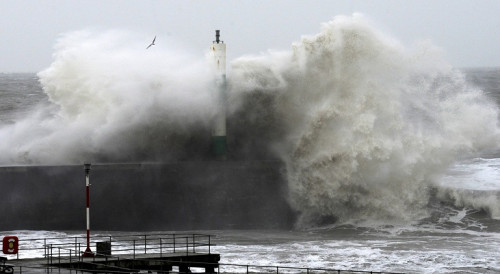 Most of the UK is still under threat from flooding, with flood sirens warning of extreme danger to people and property being used in parts of southern England.
More than 100 warnings have been issued across the UK by the Environment Agency, with three potentially life-threatening severe warnings issued in Dorset.
One of the severe warnings has been issued for the village of Chiswell, where flood sirens were sounded after huge gales and tidal surges battered the coast and broke through defences.
Dorset Police have advised on protocol following a flood siren. A spokesperson said: "The siren indicates that flooding will be severe with extreme risk to people and property.
"If the siren sounds, you should take family and pets to a room upstairs away from the seaward side of the building. Take your flood kit with you and stay there until you are told that it is safe to come downstairs. This could be a few hours later."
Preston Beach and Iford Bridge Home Park have also been warned to expect extreme flooding.
Jonathan Day, flood risk manager at the Environment Agency, warned the public to be wary of flooding for the remainder of the week
He said: "Although high tides are now falling, there remains a risk of coastal flooding, especially on the south and west coasts.
"In addition, wet conditions have left the ground saturated in many areas, increasing the risk of river and surface water flooding.
"We would urge people to be prepared by checking their flood risk, signing up to free flood warnings and keeping an eye on the latest flood updates."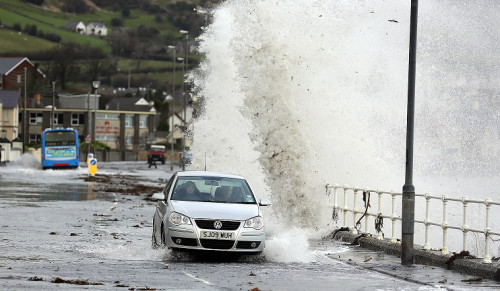 The Met Office has also issued yellow warning – the lowest of the three levels - of rain for most of southern England.
A Met Office spokesperson said: "Further bands of showers running into southern counties have the potential to produce intense bursts of rain, these quickly leading to localised impacts given the very saturated ground.
"Hail will be an additional hazard associated with some of the heaviest showers. It won't be raining all the time, with some drier interludes likely but on the other hand, longer spells of rain may occur, more particularly in the southeast overnight into Tuesday and again, perhaps more widely, overnight into Wednesday. 15 to 25mm may fall in around 6 hours at any time through this period, with overall 36-hour totals perhaps exceeding 40 mm at a few localities."