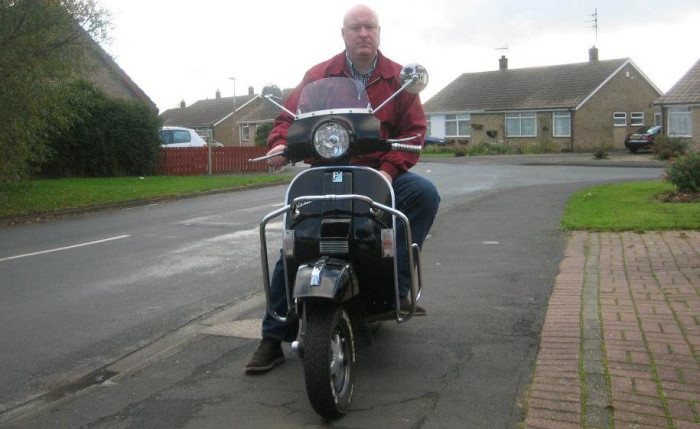 An infuriated husband blasted a former football hooligan with a shotgun after he uploaded a revenge porn picture of his wife on Facebook. Scott Watmuff, who claimed to be a member of notorious hooligans the Leeds Service Crew, admitted posting the image of Ruby Ellerby online.
Scarborough Crown Court heard Ruby - full name Rubbina - briefly left her husband Robert Ellerby for fitness instructor Watmuff and the pair moved into a flat. When she decided to go back to her spouse, 41-year-old Watmuff posted a picture of her private parts on Facebook, which was soon linked back to Ruby by the accompanying comments.
Ruby asked Watmuff to take the picture down and he turned up at the detached home she shares with Ellerby. When neither answered the door, Watmuff hurled a rock through the windscreen of Ruby's Honda Civic. Ellerby then opened an attic window and pointed the shotgun at Watmuff, who apparently began to retreat. Ellerby then opened fire and blasted him in the leg then pursued him through a field before being persuaded by passers by to unload his weapon.
Prosecutor Robert Galley told the court: "On July 6th Scott Watmuff had been drinking heavily when he attended the Ellerbys' remote home in the village of Sawdon. He saw Rubbina Ellerby's car outside the address and he began to punch the door very hard. He picked up what he described as a massive stone and threw it through the windscreen of her car.
"The defendant then opened an attic window and called to the complainant who looked up and saw him pointing a shotgun at him and he made to run away. The gun was fired and the gunshot hit him to the rear of the right leg causing injuries to his calf. He reached a field and realised he was bleeding from his leg.
"He was fearful that he was going to be shot again and thought the defendant was going to finish him off. He was coming towards him with the weapon and shouted 'Now you know how I feel.' Other people intervened. A passer-by called out 'there is no need for that' and the defendant broke the gun and took out the shells."
Ian Brickman, mitigating for Watmuff, said: "The injuries were not life-threatening but easily could have been. He has been diagnosed with post traumatic stress disorder. In many respects, he is a victim of the situation."
Watmuff was imprisoned for 16 weeks after admitting criminal damage and disclosing a private sexual photograph with intent to cause distress. Robert Ellerby – who was remanded in custody – admitted to possessing a firearm with intent to cause fear of violence and assault causing actual bodily harm.