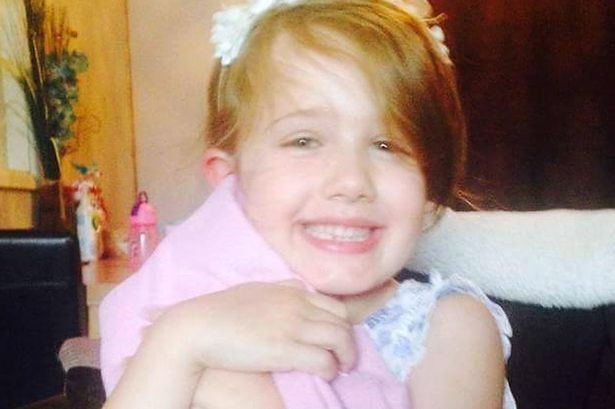 A seven-year-old gir,l who died after the bouncy castle she was playing on was blown about 150 metres by a "freak gust of wind", has been named as Summer Grant. Summer was playing when she was suddenly trapped inside the inflatable as it was picked up by strong winds and flung 500 feet across the park .
The bouncy castle blew over trailers and caravans in a park and landed down a hill after wind pulled the safety stakes out of the ground. Despite the best efforts of paramedics at the scene, Summer died in hospital from her injuries.
According to weather.com, wind speeds reached between 20-25mph around the time of the incident.
Police are preparing themselves for a "lengthy" investigation into what happened alongside the Health and Safety Executive. Detective Inspector Daniel Stoten, from Essex Police, said: "This is a very tragic incident where a young girl has lost her life. My deepest sympathies go out to her family. The weather will certainly make up part of this investigation - whether the weather was a factor and whether or not it was appropriate for the ride to be running.
"It will be a complex and thorough investigation - I do not anticipate this to be a quick inquiry, it will be a lengthy investigation. We will be speaking to scientists in relation to the weight of the ride, the type of weather, the ground underfoot, the moisture content and how the ride was tethered."
On behalf of Thurston, Ray Smith, from the Showmen's Guild of Great Britain, said: "It was a sudden gust. Had it been a consistent wind they would have closed down all the inflatables. Everyone in the industry is feeling it and on behalf of the Guild I would like to say that all our thoughts and prayers and with this little girl's family.
"We are shocked and devastated and no one here will ever get over it. We are cooperating with the police to find out how all this happened to make sure something like this never happens again."
Essex Police said a man, 27, and a 24-year-old woman, both from Cambridgeshire, were being questioned by police last night on suspicion of manslaughter by gross negligence. The pair were thought to be working for the company that runs the dome-shaped attraction.
All ride owners and stallholders were told to leave their property in place and ordered not to pack up until the investigation at the site is completed.
Summer's uncle, Shawn Grant, said the family were all "devastated", adding: "It's too early for us to talk at the moment but we want to say thank you to everyone for their kind words." Mum Cara Blackie, 26, from Norwich, and dad Lee Grant, originally from Harlow, Essex, were too upset to talk.
Among the tributes at the park's entrance was a card on a bunch of flowers that read: "God has taken a beautiful girl for his angel. RIP Princess."
Police say they are aware of video footage of the scene being circulated and ask anyone who captured the incident on camera to get in touch. If you can help with any details please contact DI Daniel Stoten on 0300 333 4444 and quote incident number 737 of 26 March or email scdappeals@essex.pnn.police.uk.
A JustGiving page has been set up by friends of the family to help pay for funeral and other costs.