Importing natural gas from the US, following the country's shale gas boom, to the UK and Europe, makes perfect geopolitical and commercial sense, says Tom Crotty, director of corporate affairs at multinational chemicals company Ineos.
Speaking to IBTimes UK, on an industry visit to a Consol Energy operated shale gas extraction site in the US state of Ohio, Crotty said: "For Ineos, importing US gas is a no brainer. A key facet of our commercial agreement with American gas exporters is security of supply, with the UK becoming a net importer of natural gas.
"As a company, we have invested $2bn (£1.54bn) towards shipping more than 800,000 tonnes a year of ethane gas from Pennsylvania to Grangemouth (UK) and Rafnes (Norway). The undertaking includes commissioning of eight vessels the size of a football field capable of carrying over 27,500 cubic meters of liquefied natural gas."
Crotty also noted that while security of supply bags all the headlines, for Ineos, as a chemicals manufacturer, it is crucial to have competitive medium-to-long-term feedstock suppliers for its chemicals manufacturing business.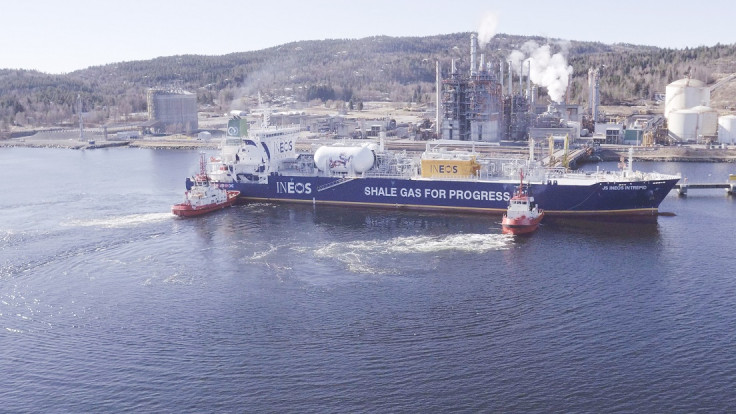 "Competitive exports from the US meet that criterion. In partnership with Consol Energy and pipeline companies, we'll transport gas from the Marcellus Shale here [in Eastern Ohio] and Western Pennsylvania via the Mariner East pipeline to the Marcus Hook gas terminal near Philadelphia.
"From there, two of the newly commissioned vessels [Ineos Insight and Ingenuity] would move the gas from a historically friendly exporting nation to Grangemouth. A third vessel – the Ineos Intrepid – is already serving the Norway route."
Crotty, who also sits on the Confederation of British Industry's climate change board, added: "In the run-up to a global coal switch-off, natural gas serves its purpose as a low carbon fuel available in abundance on long-term contracts, in large parts thanks to the US shale bonanza."
Furthermore, with Ineos poised to embark on shale exploration of its own in the UK, the information and technological exchange with US partners adds another dimension to the company's undertakings stateside.
"We are closely monitoring US gas extraction sites, scouting for talent and expertise. But more importantly, we are also 100% committed to imbuing best practices from US shale gas exporters when it comes to keeping noise levels down, keeping our vehicles off the road during school hours and engaging the wider community, all whilst keeping within the UK legislative framework on fracking," Crotty concluded.