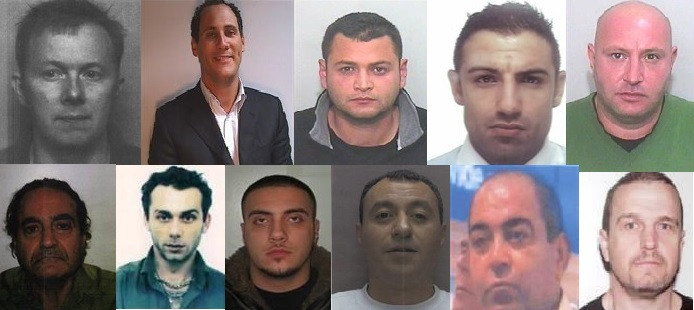 Some of the UK's most wanted criminals suspected of rape, drug dealing and running a horse racing scam are on the run in Cyprus.
The National Crime Agency (NCA) believes 11 of the country's most wanted criminals have fled Britain in the hope of evading justice and are now living at large amongst the British community on the island.
Some of the men are also accused of setting up phoney travel agencies that defrauded an estimated 20,000 people by luring customers with cut-price holidays.
The agency alonsgide Crimestoppers, has relaunched Operation Zygos in the hope they will be able to track down the suspects.
Jeffrey Bloor, 41, from Brighton, is accused of being involved in a horse racing betting and bloodstocks scam worth millions of pounds.
Richard Ardolino, 38, from Leeds, is wanted on suspicion of being part of a gang that fraudulently applied for mortgages to buy houses in the UK.
Osman Aydeniz, 35, who was last known to be living in London, is wanted by the NCA on suspicion of conspiracy to supply class A drugs, conspiracy to commit theft and money laundering.
Ozgur Demir, 39, who was last known to be living in London, is also wanted as part of the same drugs conspiracy as Aydeniz.
Ersin Mustafa, 38, from London, is wanted by City of London Police and the Financial Conduct Authority over allegations of insider dealing, worth around £2.5m.
Christakis Philippou, 70, also known as Christakis Chrysostomou, is wanted by the Metropolitan Police after he was convicted of being involved in scams in which travel agency businesses were used to defraud 20,000 people.
Martin Evans, 52, from Swansea, is wanted for drug dealing, theft and fraudulent trading.

Timur Mehmet, 40, who was born in London, is wanted by HMRC after being convicted and jailed for eight years for a £25m tax fraud.
Hasan Akarcay, 57, is wanted by West Yorkshire Police after an associate of his was found transporting 12.5kg of diamorphine, a drug similar to heroin, from London to Bradford.
Costas Sampson, 23, is a Greek Cypriot wanted by the Met Police after being convicted in 2012 of the rape of a woman he met at a London nightclub in 2010.
Mehmet Salih, 42, a Turkish Cypriot, is wanted by Leicestershire Police on suspicion of dealing in cocaine.

Steve Bennett, NCA's head of European operations, said: "Fugitives don't just give up their criminal behaviour, they typically remain part of the criminal world, creating harm and causing damage, sometimes to the new communities they live in. We are determined to ensure life on the run is intolerable for them and that they are brought back to face justice.
"The most important thing is the power of this campaign to harness the eyes and ears of the public, both in Cyprus and the UK."
Anyone with information on the fugitives is asked to call Crimestoppers anonymously on 0800 555 111 in the UK, or 8000 55 11 in Cyprus.