The Daily Mail has come under criticism from Indians and Bollywood fans for not recognising Novak Djokovic's dinner date as the famous Bollywood star Deepika Padukone. Instead, the British tabloid referred to the actress as his "female companion".
Shortly after the article was published on 9 March, thousands of people were quick to point out that Djokovic's "companion" was, in fact, Padukone, an actress who has 13 million Twitter followers and over 30 million likes on Facebook, and runs her own foundation for victims of depression. The actress's name quickly began trending nationwide in India as people called the newspaper out on their lack of information about her, also criticising them for their description of her.
The article published in the Daily Mail (since updated) stated: "The leggy brunette slipped her towering figure in a flirty frock which was decorated with a statement floral print and skimmed her knees. The pretty lady teamed her smart one-piece with a black tailored cape-coat and a pair of towering stiletto sandals which further heightened her willowy frame."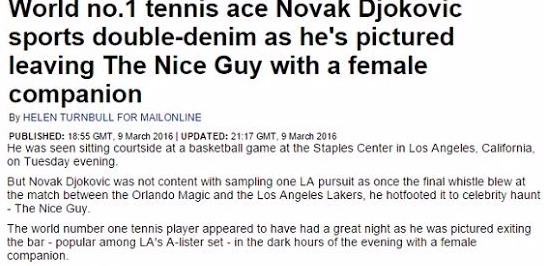 Padukone and Djokovic were allegedly spotted at the popular celebrity hangout, the Nice Guy. The Bollywood actress is in Hollywood filming her latest movie 'XXX: The Return of Xander Cage' alongside Vin Diesel. Both Padukone and Djokovic are in relationships with other people, with Padukone dating Bollywood actor Ranveer Singh and Djokovic being happily married to his high school sweetheart, Jelena Ristic.
The Daily Mail updated the story with Padukone's name but still with the readers' comments, with several pointing out the omission and criticising the paper for its lack of research.