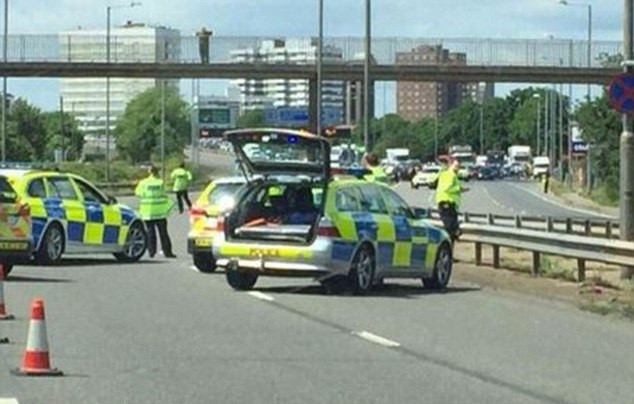 Police have condemned drivers stuck in traffic for taunting a distressed woman on a bridge over the M3 motorway as negotiators attempted to help her to safety.
Members of the public were posting offensive comments about the woman on social media that police described as "completely unacceptable".
As the M3 at Sunbury in Surrey was closed for over two hours the drivers tweeted shockingly insensitive messages to Surrey Police.
Frankie Maicourt wrote: "Tell her to get on with it. Bloody ruining everyone's weekend. Sat in this for an hour and a half now."
Another user Sara Russell, wrote: "To the person causing traffic jam on the M3/A316, you selfish, selfish t***."
The user added: "Surrey police, can't you rubber bullet the jumper on M3/A316 and get the traffic moving? Or get net ready & charge her? Ridiculous."
Other Twitter users admonished the motorists for their comments. "Have some respect and act with some humane reaction instead of spouting off," one person tweeted in reply.
In a statement, Inspector Julie Hillman, from Surrey Police, said: "Having members of the public taunt somebody who is clearly in a distressed state as we did earlier today is completely unacceptable.
"I hope the public understand why it was necessary for us to close the road as doing so helped save the woman's life.
"I appreciate that being stuck in traffic is the last thing that people want to be doing, particularly on a weekend when the weather is hot.
"But on this occasion it was completely necessary to ensure officers saw this woman to safety."
She said the woman was helped to safety and detained under the Mental Health Act.
Anyone feeling emotionally distressed or suicidal can call Samaritans for help on 08457 90 90 90 or visit a local Samaritans branch or click here for support.