The tiny UK population of orcas is now on the brink of extinction after one of the nine known residents of the British Isles died after becoming tangled in fishing nets. The killer whale known as Lulu was found washed up on island of Tiree, the most westerly island in the Inner Hebrides of Scotland.
A post-mortem examination revealed wounds found on Lulu were consistent with a rope wrapping around the tail and trailing behind the animal. It is believed the whale may have been trapped for up to four days before she was discovered beached on 3 January.
This leaves just five males and three females in a pod which have never produced offspring since studies began, leading them to believe that this could be the end for the UK's remaining population of the endangered species. Although other whales, such as minke whales, have been known to die like through entanglement this is the first documented example of a killer whale dying in this way.
Lulu was first spotted by Hebridean Whale and Dolphin Trust (HWDT) in 1995 and last photographed in the water off Waternish, Isle of Skye in July 2014; she was known to frequent waters around the Hebrides and eastern Irish coast. She was seen with a large male named John Coe and another female named Moneypenny.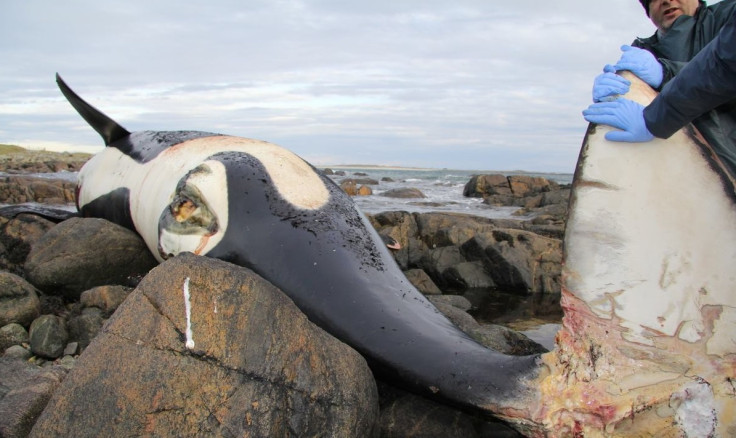 The Scottish Marine Animal Strandings Scheme, who document strandings of whales and other animals, believed she was dead for days before she was discovered. It said: "We found convincing evidence that she had become chronically entangled and this was the most likely cause of her death.
"There were deep, granulating wounds around the tailstock and tell-tale twin linear abrasions on the underside of the tail fluke. These are consistent with a rope wrapping around the tail and trailing behind the animal, probably still attached to something at the other end.
"She hadn't fed recently but had swallowed a large amount of seawater, most likely as she eventually succumbed to the entanglement and drowned. There were no ropes or gear left on the carcass; we're assuming all this from the lesions we found on her body, so we don't know if this was due to active fishing gear, abandoned or 'ghost' gear, or other marine debris."
Unfortunately, entanglement is the most commonly observed cause of death recorded for minke whales in Scottish waters. The day after Lulu's discovery, a minke whale was discovered on a beach in Essex after being hit by a ship in the Thames estuary.