Syrian refugee travelling to Germany: 'I had to pay Isis and al-Nusra to be able to leave Syria'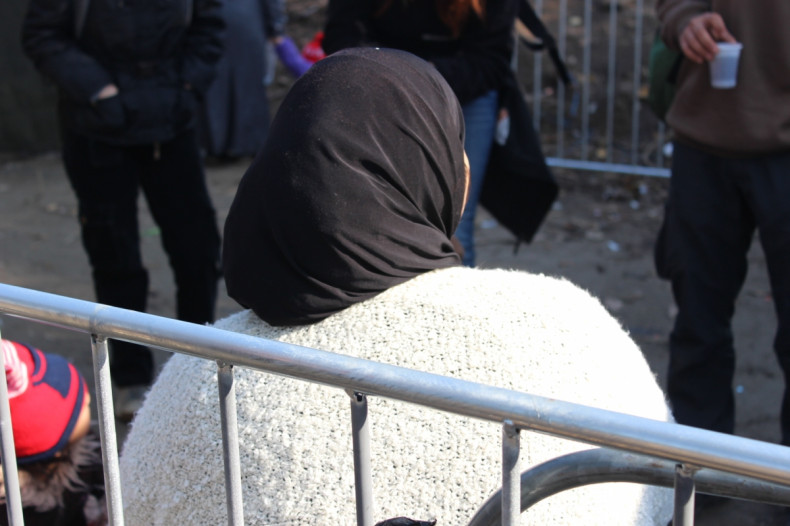 "I had to pay the Islamic State (Isis) and al-Nusra terror groups to be able to leave Syria," Noor tells IBTimes UK as she waits for the Berkasovo-Bapska crossing point in Serbia to open so that she can cross into Croatia.
Noor is pregnant with twins and has been travelling with her son. She does not know whether her husband is dead or alive. "One day, he simply disappeared," she says. "We did not see him anymore".
Noor and her son are among thousands of refugees − mainly from countries such as Syria, Afghanistan and Iraq − who aim to reach Germany, where they hope to start a new life free from violence. Most of them already have family members waiting for them in the country and believe the European nation is the best destination in which to raise their children.
Noor reached Serbia after travelling from Syria to Turkey, Greece and Macedonia. She explains it has not been an easy journey: "Inside Syria, we had to move around inner borders. It took us five days, during which we rode a truck through the desert and we slept in tents with snakes and scorpions, it was scary. When we reached Aleppo, we had to cover our faces because Daesh (IS) is there and the group told us that if they saw eyeballs they would beat us in the back 80 times and they would detain the whole group.
"Then, they put us in a tent and said we had to pay 100,000 Syrian Pounds (£297) or they would kill us," she continues. "IS don't have anything to do with Islam. After we finished with IS, we had to deal with Jabhat (al-Nusra, affilitated to al-Qaeda) group. We had to pay them and they asked for all the IDs of the men. After that, we had to deal with the Free Syrian Army."
Noor also explains her journey to Germany is difficult because she does not have official documents and she is travelling with her college degree and driving licence to prove her identity. "People don't understand that I could not go to the Syrian government to get official certifications," she says.
People dream of Germany
Serbia is merely a transit point for refugees, who usually spend less than 24 hours in the country. However, when authorities temporarily close crossing points due to security issues or to curtail the refugee influx, thousands of people sleep in makeshift camps in the freezing cold.
"Each state we pass, people say: OK, now it's an easier step, but it's getting harder actually, "Noor explains. "Nobody wants to apply for asylum in Serbia, people are dreaming of Germany.
"Circumstances put us in this situation, the volunteers are really nice and the press helps us, but we are suffering. There is no child in this place that hasn't vomited or hasn't had stomach problems. It's cold and I cannot walk properly because my bones ache. I am lucky to be able to buy a sleeping bag, but the majority of people here cannot afford it - these people have only 100 euros left to reach Germany.
"I don't want to go back to Syria, maybe in ten years, when the regime changes, or maybe I will go as a tourist. I believe Syrians are bad to each other."
---
IBTimes UK travelled to Serbia courtesy of World Vision UK. Click here for more information about the World Vision UK refugee crisis appeal.
---