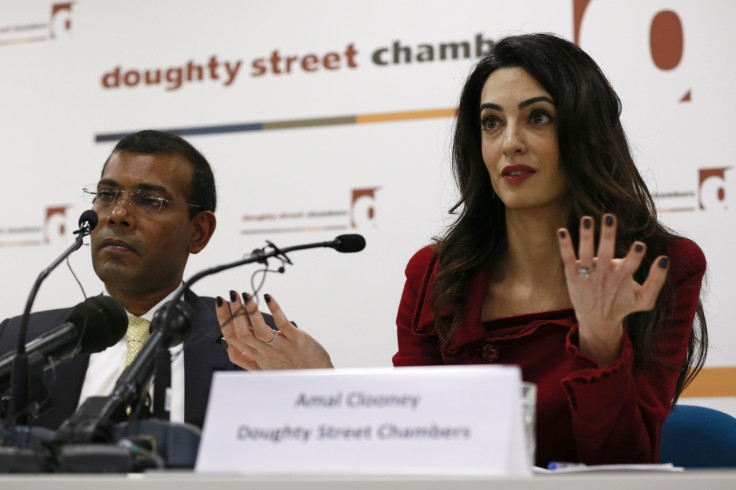 Britain has granted refugee status to the former president of the Maldives, Mohamed Nasheed who is represented by the prominent human rights lawyer Amal Clooney, wife of the Hollywood star George.
Nasheed, 49, had been jailed in 2015 for 13 years for ordering the arrest of a senior judge in a case Amnesty International described as a "travesty of justice", but had been allowed to travel to the UK in January for medical treatment.
After 30 years of dictatorship in the Maldives, Nasheed became the first democratically-elected president of the Indian Ocean archipelago in 2008 but he says he was forced from power by Yameen Abdul Gayoom whose government is accused of cracking down on the media and the opposition. Naheed's counsel Clooney has reportedly faced death threats over her human rights work.
The international consultancy Omnia Strategy, founded by Cherie Blair QC, the wife of the former British prime minister, advised the current president in a move which Nasheed had described as "sad and unfortunate".
In February, Nasheed told IBTimes UK that the leadership of the island needed to face sanctions such as the freezing of assets, but he did not want tourists to stop going to the islands.
"I think tourists should be aware of the situation in the Maldives about the human rights abuses, and the illegal activities of the government.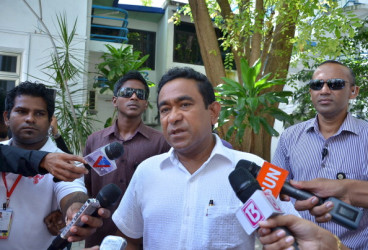 "We simply want targeted sanctions on regime leaders, we think that should bring them to a more reasonable attitude to our situation," he said.
He had also told the Chatham House think tank in February that the crackdown in the islands was cover for the president who had built a criminal network of international money laundering.
He added that he wanted to return to the Maldives to continue his fight for democracy, but in a statement on Tuesday 24 May he said he would stay in London and continue the fight outside the country.
"Given the slide towards authoritarianism in the Maldives, myself and other opposition politicians feel we have no choice but to work from exile, for now," the Times reported.
Nasheed's legal team said he only wanted to go to the UK because the medical treatment he needed was only available in the UK.
In a statement, the Maldives High Commission in London stated: "The Government of the Maldives is disappointed, if confirmed, that the UK Government is allowing itself to be part of this charade, and further, is enabling an individual to circumvent his obligations under the law.
"This latest development clearly demonstrates that the intention was to seek to avoid serving his prison sentence, and thus again, the former president has once again exhibited a distinct lack of commitment to the legal process and continues to manipulate the process for political gain, believing that he remains above the law".