Posters showing terrified commuters fleeing a Mumbai-style terror attack have been criticized as "scaremongering" similar to the tactics used during the Cold War era.
The 'Stay Safe' flyers with the strap "Run, Hide and Tell" were being handed out at stations across the UK as part of Counter Terrorism Awareness Week.
The posters state: "If you hear gunfire or a weapons attack, leave the area safely if you can. If this puts you in greater danger, find a safe place to take cover."
Critics compared the leaflets to the Cold War adverts telling people to "Duck and Cover" if caught in a nuclear attack.
Chris Irvine, a councillor in Rochester, Kent, said: "I grew up in Northern Ireland during the worst of the troubles and never witnessed anything remotely resembling this level of scaremongering. We have to take the terror threat seriously but I don't see how striking the fear of God into everyone helps."
Others felt the advice on hearing gunfire was patronising. Twitter user, @citizenx99, wrote: "If you hear gunfire leave the area if you can...or hide. Gee, thanks for that."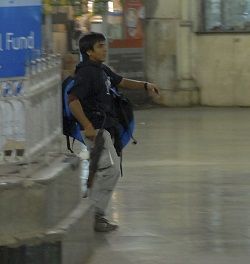 The Met's assistant commissioner Mark Rowley said reports of suspicious behaviour had almost doubled since the the terror threat was raised to "severe" at the end of August.
"We don't want to scare people. But experience shows that terrorists target busy, well-populated areas to ensure that attacks have a maximum impact," he added.
Chief Constable Paul Crowther, of the British Transport Police (BTP) said: "For commuters, who make the same journey over and over again, it can be easy to become oblivious to their surroundings.
"But I would urge them to remain alert, use their instinct and have the confidence to report anything that strikes them as out-of-place or suspicious."
More than 160 people died in Mumbai when Islamist gunmen launched attacks across the city in 2008, including an assault at the Chhatrapati Shivaji rail terminus where 58 people were killed and 104 injured.
The issuing of the leaflets from British Transport Police comes as Home Secretary Theresa May announced earlier this week that the terrorist threat from extremists "was greater than ever" and 40 terror plots had been foiled since the 7/7 London bombings.