UK travel misery: Commuters face disruption as three-day rail strike kicks off
RMT members to stage industrial action on Monday, Wednesday and Friday.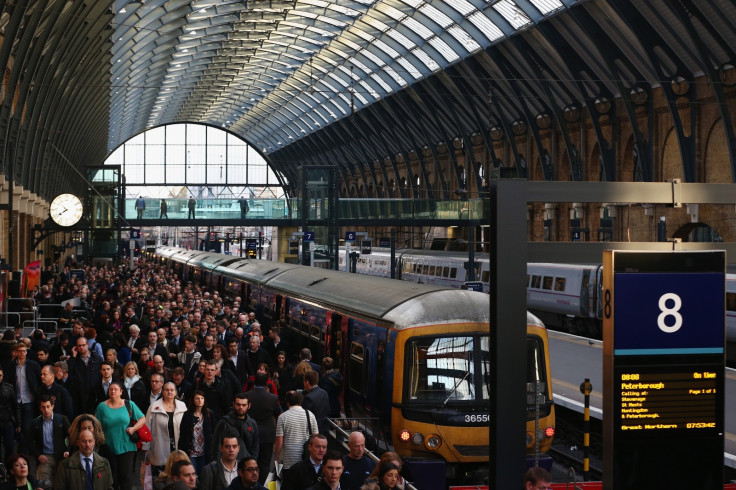 Commuters in England face three days of disruption as a new wave of strikes over rail safety started on Monday (8 January).
Members of the Rail, Maritime and Transport union (RMT) planned to walk out on Monday, Wednesday and Friday after last-minute talks to prevent industrial action failed. The strikes will affect Northern, Merseyrail, South Western Railway and Greater Anglia railways, while RMT workers at Southern will also stage a 24-hour walkout on Monday.
As with previous strikes, the latest wave of industrial action is in opposition to suggestions that rail companies want to eliminate guards from trains. The unions say such a move would be unsafe.
While a number of operators have ruled out scrapping the roles, they have refused to meet the union's demands for guarantees over roles and responsibilities.
However, the Department for Transport insisted that "no one is losing their job" and that the row was not about safety.
"Employees have been guaranteed jobs and salaries for several years," a spokesman said.
"The independent rail regulator has stated unequivocally that driver-controlled trains, which have been used in this country for more than 30 years, are safe.
"Despite the best efforts of the RMT to cause misery for passengers, the train companies will keep passengers moving with the majority of services running as planned."
Mick Cash, the general secretary of RMT, has written to transport secretary Chris Grayling, to set up a meeting between the union, the Department for Transport and train operators.
Cash said he hoped the meeting could consider how to apply the principles adopted in Scotland and Wales - where the union and rail companies agreed to keep guards on the train - to solve the current dispute in England.
"I have told the secretary of state that agreements have been reached in Scotland and Wales for safe, secure and accessible modern services and that with goodwill on all sides we can reach an agreement in England as well," he said.
However, he added that union members had been left "with no option but to press ahead with the action [due to a] lack of clarity [and] contradictory messages" from the government.
"No one should be in any doubt: these disputes are about putting the safety of the travelling public before the profits of the private train companies," he said.
South Western to cancel a third of services
All the affected firms said they would be running services during the strikes but passengers could still expect significant disruptions.
South Western Railway passengers will be the worst affected with the operator, which carries 300,000 commuters a day, set to cancel 450 of its 1,700 daily services.
Greater Anglia will run a full service on all three days, while Northern will run approximately 1,350 services on strike days, more than 50% of its normal timetable.
Merseyrail will run a reduced service, mostly between 7am and 7pm, with a break during the middle of the day and no trains on the Kirby, Ellesmere Port or Hunts Cross lines. However, the rail operator added Arriva Buses will accept Merseyrail tickets on strike days covering the Northern and Wirral lines.