UK Weather: Gale Force Winds and Heavy Rain Threaten Christmas Travel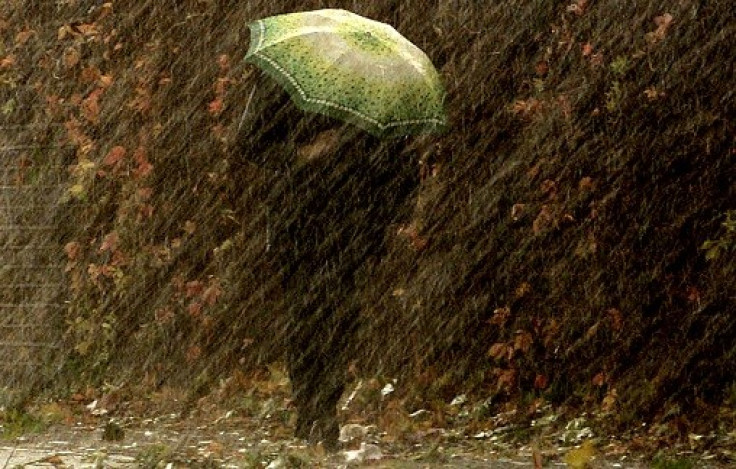 Britons have been told to brace themselves for severe with gales and heavy rain set to batter parts of the UK.
The Met Office has warned that some areas will be hit by winds of up to 80mph and persistent rainfall as Storm Emily sweeps in.
Forecasters at the Weather Channel added that some areas in Scotland may see winds of more than 100mph. Severe gales are expected to continue in northwestern parts of Scotland into the weekend.
Severe weather warnings have been issued across northern and western parts of the UK. The Met Office warned the public to be aware of the risk of disruption on road and rail.
A Met Office spokesperson said: "Severe gale force winds are likely to affect parts of Northern Ireland, central and northern Scotland on Wednesday night and early on Thursday. Gusts may exceed 80 mph locally.
"The wind will lead to large waves with some coastal over-topping possible. In addition, persistent heavy rain will quickly clear from Scotland leaving squally wintry showers.
"Rain will become persistent and heavy at times during Wednesday with the heaviest rainfall expected to be across southwest Scotland, Tayside and Lochaber.
"Southerly winds will increase to gale force with severe gales developing in coastal areas and higher ground inland."
Some forecasters feared that gale force winds could continue right up to Christmas Day - one of the busiest travel periods of the year.
Weather Channel meteorologist Leon Brown said: "The worst case is 70-90mph gusts across exposed parts of Wales and the south, but even 70mph gusts for central Britain would cause a lot of disruption."
© Copyright IBTimes 2023. All rights reserved.